Seven individuals from the area have been recognised in the Queen's Birthday 2017 Honours List.
Two were appointed Officers of the New Zealand Order of Merit (ONZM), three were made Members of the New Zealand Order of Merit (MNZM) and two were awarded The Queen's Service Medal.
Those recognised were:
Avon Cook – ONZM
Shamrock Park
For services to the manufacturing industry
Mr Avon Cook is an entrepreneur who has contributed to the successful development of several businesses in New Zealand and abroad since 1946.
Mr Cook is the current Chairman and Director of Fabricell International Ltd and the Director of Novatek International PTY Ltd. Fabricell is a leading medical, industrial and food processing protection supplier. Under Mr Cook's guidance the company has grown significantly and is exporting its products to a wide range of countries. He has pioneered world-class products, such as the first anti-bacterial disposable glove for the food industry. He has also engaged in philanthropic activities and in 2011 Fabricell donated $250,000 worth of their product to the Christchurch Earthquake Disaster Fund. Under his guidance Fabricell has become the preferred supplier of disposable medicine gloves to the South East Asian market. Mr Cook has also been a highly active member of the Auckland Jewish Community and is a member of the Grafton United Cricket Club in Auckland.
Graeme James Steel – ONZM
Pakuranga
For services to sport
Mr Graeme Steel is Chief Executive of Drug Free Sport New Zealand and is a world-renowned expert on anti-doping.
Mr Steel was integral in forming the New Zealand Sports Drug Agency, which took over the New Zealand Olympic Committee's anti-doping programme as an independent body in 1994, and was appointed Executive Director. The organisation became Drug Free Sport New Zealand with specific responsibilities to implement the World Anti-Doping Code in 2006 and he has continued as Chief Executive since that time. He has been involved in all areas of anti-doping, including developing and administering testing and education programmes. In the mid-1990s he was part of the team which developed the International Standard for Doping Control, from which the current International Standard for Testing was drawn. He was seconded to the International Olympic Committee Medical Commission for the Sydney 2000 Olympic Games to assist in the oversight of the Doping Control Programme. He has served on World Anti-Doping Agency Independent Observer Panels at a range of large international sporting events, including chairing the panel for the 2008 Beijing Olympics. Mr Steel was President of the Association of National Anti-Doping Organisations and has been New Zealand's representative for Oceania on the WADA Executive Committee.
Ray Kenway Haffenden – MNZM
Howick
For services to rugby league
Mr Ray Haffenden is a former rugby league player who coached the New Zealand Junior Kiwis from 1989 to 1990 and managed the Kiwis, New Zealand's national men's rugby league team from 1990 to 1995.
Mr Haffenden was elected to the New Zealand Rugby League (NZRL) Board in 1992, serving until 1995. He was re-elected to the Board and took over as Chairman in 2007, subsequently overseeing the changes that occurred following the SPARC review of NZRL in 2009. He was Vice Chairman of NZRL from 2006 to 2016. He served on the judiciary for Bartercard Cup games and the NZRL judiciary panel. He was a national selector and convenor from 1992 to 1995, a Junior Kiwis selector from 1986 to 1990 and is a Life Member of the Linwood Rugby League Club in Christchurch and of NZRL. He is currently Chairman of the NZRL Kiwis Association, President of the NZRL Southern Zone, and Vice Chairman of the NZRL Museum Committee. As a player he played for the Linwood Keas in the Canterbury Rugby League competition as well as a number of games for Canterbury and as a representative for the South Island against Great Britain in 1974. Mr Haffenden also coached Canterbury in 1982 and from 1984 to 1988 as well as the South Island representative team during this time.
AWARDS
New Zealander of the Year Local Hero Award, 2014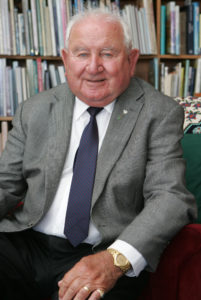 John Roy-Wojciechowski – MNZM
Howick
For services to the Polish community and philanthropy
Mr John Roy-Wojciechowski has been a founding member of the Auckland, Wellington, and New Zealand Polish Associations.
Mr Roy-Wojciechowski was the Honorary Consul in Auckland for Poland from 1998 to 2013. He has been involved with a range of community organisations in Howick and sponsored sports clubs. He helped to provide equipment to the Howick Sailing Club, sailed one of the first Lasers in New Zealand with them, and was later made Club Patron. He has worked with Howick Rotary Club's Showcase Awards, sponsoring the Employee of the Year Award. In 2004 he funded the establishment of the Polish Heritage Trust Museum in Howick. He has served on the Committee of Our Lady, Star of the Sea Parish and has driven fundraising initiatives for extensions to the school buildings, the construction of a new library, and sponsored the stained-glass windows installed in the church. He was Board Chairman for the northern region of the Life Education Trust, during which time he led fundraising efforts to increase the number of mobile classrooms and helped the charity reach 245,000 primary and intermediate school children. Mr Roy-Wojciechowski was a founding member and is now a Life Member of the Otago Heritage Trust.
HONOURS AND AWARDS
Officers Cross of the Order of Merit, Republic of Poland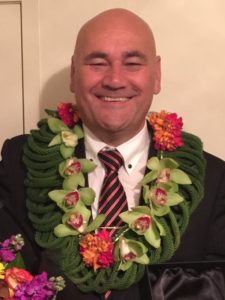 Hamish Angus Crooks – MNZM
Flat Bush
For services to the Pacific community
Mr Hamish Crooks has been Chief Executive of Pacific Homecare since 2010, which provides home-based health care services throughout South Auckland to disabled and elderly Pacific people who wish to continue living at home and in their communities.
Mr Crooks established in 2001 and is Managing Director of the management consultancy company 4PM Group Ltd, which specialises in community development, project management, and organisational management. He is the former Chair of Pacific Business Trust and has been an active member of The Second Nature Trust, which established the Vodafone Events Centre and the Vector Wero Whitewater Park in Manukau, particularly in keeping the community informed of the development and its impact on them. He is involved with the recovery of the Cook Islands Maori Language project. He is the Trustee of community organisations including Fonua Ola Network Trust and the Pacific Peoples Advancement Trust. Mr Crooks has held a range of board memberships including Toku Reo Tupuna Group, the Digital Strategy Advisory Group for the Minister of Technology, the Audit, Risk and Assurance Committee of the Ministry of Pacific Peoples, and Chair of Matagi E Fa Trust.
AWARDS
SunPix Pacific Peoples Award, 2016
Pasifika Medical Association Services Award, 2016
Fraser McDonald Faulknor – QSM
Pakuranga Heights
For services to children, education and music
Mr Fraser Faulknor has had a background in teaching, music and the care of vulnerable young people and was Director of the Dingwall Trust's Care Programme from 1979 to 2000.
Mr Faulknor navigated considerable change within the social welfare system during this period, including registering Dingwall as a Child and Family Support Service in 1989, allowing Dingwall to be made legally responsible for some children not covered by Child, Youth and Family Services, and for these placements to be government funded. Many children benefitted from this mandate, which continues to this day. Other beneficial initiatives he introduced to Dingwall included visiting social workers, the decentralisation of Dingwall into individual houses, a boarding school programme and the Dingwall School to fill gaps in children's learning to help them return to mainstream schools. He coordinated the establishment of the New Zealand Association of Child and Family Support and Community Services in 2000. Since retiring from Dingwall he has been Manager of the Auckland Boys' Choir and a member of the Choir Board for the past 15 years. Mr Faulknor has been involved with many singing events such as The Big Sing and the APPA Singing Festival and in 2011 was instrumental in establishing the Young at Heart choral group.
Gair McRae – QSM
Howick
For services to theatre and youth
Ms Gair McRae has taught drama to the children and youth of Huntly, Maraetai, St Heliers, Bucklands Beach, and Howick for more than 50 years.
Ms McRae established the Huntly Children's Theatre in 1962 as a young primary school teacher. She then started teaching drama from her Howick home and at the Howick Little Theatre Youth group.
In 1969 she established the Bucklands Beach Children's Theatre. Her belief in the importance of providing children with quality performance experiences often saw her self-fund props, running costs and hall hire. She later established Uxbridge Children's and Youth Theatre, which became the Howick Children's and Youth Theatre (HCYT) when she secured council-owned premises for it to operate from. She is a Life Member of HCYT and has taught thousands of children over the years. More than 500 students aged between five and 21 years attend HCYT classes each week and Ms McRae remains involved in teaching these classes.