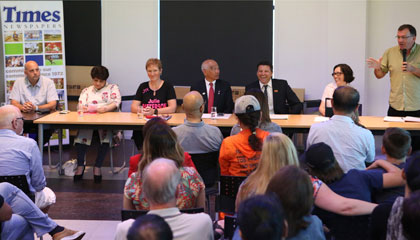 Everyone likes a good debate.
The Times Botany by-election debate, held at Botany Library on Friday evening at 6.30pm, served its purpose.
It provided a perfect platform for the local electorate to hear, observe, question, probe and make an informed decision about the seven candidates standing for the local by-election.
The idea behind taking the initiative of hosting a public forum was to shake the disenchanted out of their apathy for voting, often cited as a cause for low voter turnout.
Going by the encouraging turnout at Botany Library, we could see a lot more people voting.
It was heartening to see people take time out on a busy Friday evening before a long weekend to interact with those who could be representing them on the Howick Local Board.
The Botany subdivision that encompasses Flat Bush, East Tamaki, East Tamaki Heights and Ormiston areas had the lowest voter turnout of the three Howick Ward subdivisions last year. Voter turnout for the October election in the Botany subdivision was a dismal 36.9 per cent.
The Botany by-election was triggered by the resignation of the newly sworn-in local board member Lucy Schwaner. The by-election is expected to cost the taxpayer up to $104,000.
Friday's debate began with Times reporter and master of ceremonies, Scott Yeoman, giving candidates a minute each to introduce themselves.
The candidates – Mike Turinsky, Nivedita Sharma Vij, Julie Patterson, Kuan Yap, Mark Johnson, Ailian Su and Malcolm Page – were then given an opportunity to talk about a major issue or challenge facing the Botany subdivision.
"Fastest growing suburb with traffic congestion, increased crime, parking problems and a community of people who don't feel connected. We have a chance to get it right this time," said Mr Turinsky, CEO of Young Life New Zealand Trust in East Auckland.
Labour candidate Mark Johnson said the city is changing technologically and with it, the infrastructure needs to change.
"The challenge is better transport with better economic opportunities," he said.
"We also need Botany subdivision to have its identity and host its own community events, like having a Santa Parade in Botany."
Independent candidate Mrs Vij felt "lack of connectivity" is a major issue, while former Auckland Council employee Mr Page said "growth is going to be a challenge".
Ex-cop Mrs Patterson said "working on wider and safer roads to get rid of traffic jams on motorways is an issue that needs to be resolved".
Talking about the challenges they think the Howick Local Board will face in trying to resolve issues in the area, Mr Yap highlighted budgetary constraints.
In terms of solutions to resolve pressing problems facing the area, Mrs Su suggested "bus shuttle services and better parking facilities at major train stations and bus stops would help ease traffic congestion".
It was interesting to watch candidates trying to elbow their way in, and in the process giving the spectators a glimpse of their individual personalities.
While some seasoned candidates were used to addressing public forums, one of them later admitted that being pitted against each other and being put in a time slot was nerve-racking.
And then there were those who, despite being new to the game, were enthused about being given a chance to speak and found it hard to stop talking.
The keen audience also had a sprinkling of Howick Local Board members like David Collings, Katrina Bungard, John Spiller and Peter Young as well as community leaders like David Ellery and Richard Waugh.
Labour party's Tofiq Mamedov recorded the proceedings of the debate and asked how candidates would react if there they didn't see eye-to-eye with members of the board.
He said: "If you disagree, would you resign (like Lucy Schwaner did)?"
Mr Spiller questioned the candidates on "the skills or attributes they will bring to the board", while Jane Waugh asked candidates to speak of their past experience with the Howick Local Board.
A range of interesting answers gave the audience an insight, helping them to decide who to vote for; it also gave the candidates an opportunity to take a stand.
Local resident Alan Papprill summed it up saying, "this by-election debate is the best I have experienced in this electorate for some time. The small, intimate event had a sense of great community, people wanted to know what the board can do for Botany, and not just Howick and Pakuranga".
The evening ended with some lip-smacking finger food and plenty to reflect on.
View the full event gallery
Voting closes at 12pm on February 17. Results will be available that afternoon.   
View the Times' live coverage of the debate here.