Deputy Prime Minster Paula Bennett has a good number of portfolios to contend with.
Yet with just three hours of sleep after travelling the length and breadth of the country campaigning for five days straight, Mrs Bennett is bright-eyed and bushy-tailed.
She has something clever to say to everyone in the packed-to-the-capacity SuperBlues meeting hosted by Botany MP Jami-Lee Ross at the Howick Bowling Club on Friday morning.
"It's quite funny when people think they know me because maybe they have seen me on television," she says. She narrates an anecdote of the time she was holidaying at a beach up north with her husband and grandchild.
"I had no make-up on and was in shorts, collecting shells when an elderly gentleman walks up to me and says: `By crikey you look like my girlfriend Paula Bennett. I have a big crush on her'.
"My husband responded saying: `I do too'.
"After a while he had a closer look at me and says: 'By crikey are you Paula Bennett'?
"To which his wife promptly brushes him off saying: "Of course not darling, she is a lot younger than Paula!"
The Minister for State Services, Women, Tourism, Police and Climate Change admits that she "lives in Auckland but sleeps in Wellington."
She had everyone's attention as the room filled with laughter.
"We had a bloke last year who said `let's make America great again'. But this country is already great! How lucky are we!"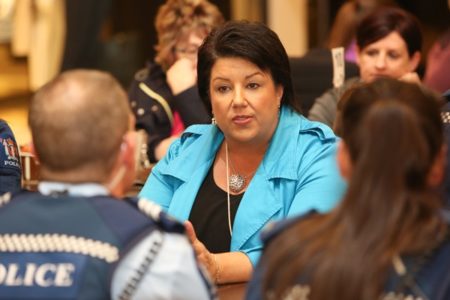 Reflecting on her working relationship with Prime Minister Bill English when she took over as Deputy PM seven months ago, she says there has been a big change.
"We don't argue anymore. Earlier we used to argue about policy but we don't fight anymore.
"I told him, there are two people in an argument. One of them was right and one of them was you," she laughs.
"Ladies, feel free to use that line on your partners, anytime."
About Mr English she says: "He's just got this amazing big brain that can tackle really complex issues and cut it down into caring about an individual community, like how the policy can affect a woman in South Auckland."
Talking about 10,000 more jobs created every month that equates to 66 new jobs every hour; and NCEA Level 2 results success moving up from 68 per cent to 83 percent with the aim to push it up to 90 per cent, she says she is "confidently paranoid about the elections".
Later in the day as she speaks to the Times
while "hanging out" at the Botany Town Centre, chatting  with shop owners and even trying on a pair of shoes, the minister with one portfolio for every day of the week says she gets her energy from people.
"New Zealand is so remarkable. It gives people second chances.
"How else can someone like me who was a single mother at 17, dream of being the Deputy Prime Minister of the country?
"Isn't that absolutely fabulous?"