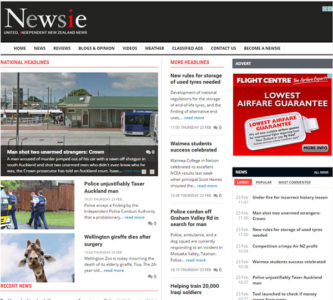 The nation's independent publishers — including Times Media which produces the Howick and Pakuranga Times and Botany and Ormiston Times – are banding together, creating a new national news service.
Newsie is a collaboration of New Zealand-owned and independent news companies, pooling resources throughout the nation to bring a new, balanced and locally owned news organisation.
The news service is co-ordinated by Sun Media, the New Zealand-owned publishing company that operates the highly-successful SunLive news website based in the Bay of Plenty.
Regional newspapers and websites are being added every week to the Newsie stable.
Sun Media director Brian Rogers said Newsie is a unique and powerful new concept – a cooperative effort of independent publishers the length and breadth of New Zealand, united in their commitment to pool resources and to create a truly independent and balanced national news service.
It is in the early stages of development, he says.
"We'll be adding many more independent publishers to the pool in coming months, along with freelancers throughout the country and offering New Zealanders their own voice.
"We have secured reliable and balanced sources of international and national news, and sports feeds, so as Newsie grows and expands there'll be more to read, opportunity to comment and give feedback.
"This is truly a news-site for New Zealanders, by New Zealanders, who at last have the chance to make it their own."
Rogers says Newsie will have an "incredible depth" of regional and national coverage thanks to its media partners.
"They are the eyes and ears of their communities and are committed to feeding a rich variety of important regional news, colourful stories of New Zealanders and some entertaining tales.
"Clickbait is banned; the Kardashians outlawed… Newsie will have real news about Kiwis and we'll never ask readers if they can believe what happens next. Tramps will not buy Ferraris and celebrities will have to earn a mention, not merely get a haircut or change spouse."
And why the name Newsie?
Newsie is an old term, coined circa 1875 as an historical nickname for newsboys, journalists and the like whose mission it was to deliver the real, important news to the readers — exactly what Newsie looking to achieve.
For more information contact Brian Rogers, Sun Media, 07 928-3050