By Bo Burns
Our day started bright and early – 6am with all the set-up preparations – with blue skies all over east Auckland.
It was promising to be another successful Howick Santa Parade. The weather Gods did not let us down and it proved to be another hot, outstanding summers day!
The energy levels were high, and the village was filling up from around 10am with Uxbridge and Moore Street activities, the lovely Santa Parade Xmas markets, and the amazing retailers opening for the hustle and bustle of the day.
The town was literally painted red with balloons, flags, lollies, clowns, stilt walkers, fashion parades, magic shows… the list goes on!

With a record 60 floats, the parade was a huge success, and the judges enjoyed engaging with everyone and seeing all the effort our local community put in. Santa said he hasn't seen a crowd like this in a local parade for years, and he said it was 5 to 6 deep the whole way around, which was music to my ears, knowing that all the hard work my team and I put in paid off with our community turning up to support not only our efforts, but to get involved in the day!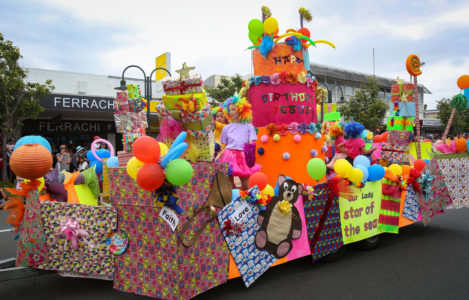 Even though the judges Adele White, John Russell and Richie Barnett said it was a tough decision, as everyone had made huge efforts, the final vote from the three independent judges were conclusive.
First place went to Our Lady Star of the Sea, second was Cockle Bay Primary and third place went to Point View Girl Guides.
Our Volunteer of the Year Cup went to Gina Grant for her continuous support, hard work and effort throughout the all the preparations and on the day!
A big thank you to Times Newspapers for continuing to help engage with our community, promote and turn up to these iconic events. After being involved myself somehow with friends Emma Smith and her mum Reay Neben and her husband Brian for roughly 30 years, it was a pleasure, even though an exhausting pleasure running the parade myself.

I will hold my head high and be proud of being able to take over the reins from them with their guidance and support.
Even though the brain is still fizzing, I'm conscious that its now 363 days until the next one!
Merry Christmas everyone!
Bo Burns and and mum Pip are the organisers of the Howick Santa Parade.