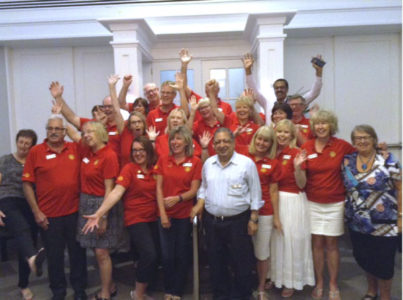 They arrived in large numbers and made quite an impact.
Led by District Governor Margaret Walton, a cheerful and dynamic group of 21 Rotarians from Rotary District 7010 in Canada recently landed in Howick, Pakuranga and Botany on an international Friendship Exchange programme.
Organised with clockwork precision by assistant governor Sue Fairburn of Rotary District 9920 and Leone Dunne from Somerville Rotary, the vibrant group of Canadians got to spend time with all the local Rotary Clubs that hosted them and showed them around.
From vineyards to beaches, bush walks, sailing, art and sculpture exhibitions, visit to an alpaca farm and dining at the finest restaurants, the Canadians had a taste of New Zealand.
But more than that, it was a sense of fellowship that comes with spending time with like-minded people who put service before self.
The exchange was a perfect springboard to share different initiatives on fundraising that help a wide range of charitable organisations as well as deserving individuals all over the world.
While some of the go-getting Rotarians from Canada have returned to their country, others are currently touring the length and breadth of New Zealand.
Next year local Rotarians from District 9920 will be visiting Toronto on a reciprocal exchange programme.