If any Macleans College students had dreams of stardom on the world's opera stage they were firmly brought back to earth by one of New Zealand and the world's greatest divas, Dame Kiri Te Kanawa.
It's more than 25 years since Dame Kiri visited the school which has named one of its 'houses' after her.
At a special assembly on Monday morning the soprano related how her mother's continuing vision as she grew up was that she would be an opera singer.
"So I did become one," she said.
"It's been a most fun time, but it is mainly about work, work, work and more work.
"I dream about work, about the exercises and about being better each day.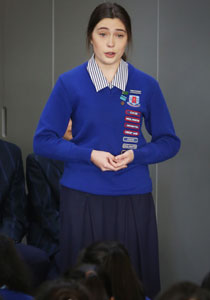 "I am 72 now and for 50 years have done nothing but hard work. I don't ask you to sacrifice things, but working is very rewarding."
She also had a firm word about the role of social media in young singers' lives.
"The availability of knowledge is massive. But at the moment I look at a young singer who has learned a work from YouTube and I say 'I can't teach you'.
You don't learn by rote from a recording. You leave it behind and put your own self into it. We didn't have YouTube when we started out."
By: Marianne Kelly