By Farida Master
At this time of the year, educator and community worker Rosa Chow gets busy making around 250 auspicious red packets for the staff at Macleans College.
On the board of trustees, Rosa initiated the idea of getting Asian parents to make and present teachers/staff of Macleans College with little red packets that bring good luck and prosperity during Chinese New Year.
In Chinese culture, the tradition of gifting little red envelopes with money in it is a welcome ritual during Chinese New Year, weddings and family celebrations. Traditionally it is gifted by elders in the family to the young ones.
"Instead of the customary money we pack just a chocolate coin for the staff in the red envelopes that are considered lucky," says Rosa, who was born in Hong Kong and has lived in New Zealand for more than 23 years.
"The Chinese love money so everything to do with New Year is connected to good fortune, prosperity and wealth," she laughs.
The envelopes are usually red or gold with a Chinese character that represents good luck.
Local resident Yongjie Li, a Chinophile says that at the stroke of midnight on New Year's Eve on January 24, his young family will be partaking in a meal of dumplings that are shaped like gold ingots, symbolising wealth.
"There will be other traditional food too…we make around a hundred dumplings with sticky rice pastry, sugar and hide a coin in some of the dumplings. The person who finds a coin is said to be lucky. Also, sugar represents sweetness—sweet tidings and reminds one to speak well of others."
A specialist advisor, (community empowerment-arts, community, and events) with Auckland Council, Yongjie who is a collector of vintage Chinese opera artifacts, music, costumes and antique ornaments, says the family will worship the God of Wealth and Good Fortune Gong Ming Zhou –a mythological figure worshipped in the Chinese folk religion and Taoism on New Year's Eve.
"We also pray to our ancestors, including those from different dynasties," he says.
Yongjie is a Chinese opera amateur and has performed opera for the last 30 years.
He says that it was the grandeur of elaborately embroidered silken robes of the opera singers that dazzled him as a five-year-old.
"I lived in the countryside in North East China and in those days we got to wear new clothes only during New Year. The rest of the year we wore old clothes with patches on it. For me, the costumes represented wealth, aristocracy and the vivid historic stories they enacted on stage were captivating, transporting me to another world."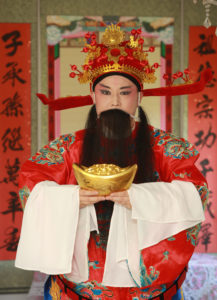 He bemoans the fact that New Year which was once a very solemn and special occasion where women spent days in the kitchen cooking up a feast, has all changed.
"It was the only time we wore new clothes, ate good food, prayed to our ancestors and enjoyed the fireworks. It was so special to spend time with extended family. Now people go to fancy restaurants on New Year so there is nothing special about rituals and tradition. It's lost its significance– not only amongst the Chinese in New Zealand but also for the younger generation in China.
"I've stubbornly held on to my culture because it is my identity, it represents my roots."
It's the reason the history buff has set up a small museum called Mau Qiang at his home. It houses a unique collection of art, opera costumes; audio and video records that even people in China can't have access to, says the traditionalist at heart.
Of the personal belief that is culture and tradition that reinforce values Yongjie now plans to showcase his personal collection at the Uxbridge Art Centre.