"Have you got your devices?"
Cue the resounding chorus of "no" from nervous looking parents.
It was 10 in the morning at Sancta Maria College and we were about to embark on the greatest journey of our lives – participation in Back to the Future.
It's the first time the college has hosted the event with the intention of allowing the Sancta Maria College parent community to see for themselves what it's like to be a student in 2017.
The new learning approach schools are focusing on nowadays is focused on equipping students for work life in the 21st century where learning agility is an increasingly important skill, said deputy principal Ray Green during the morning PowerPoint presentation.
After a school tour led by prefects, 24 parents had the chance to select two classes to attend, with subjects ranging from Photography to Japanese to Social Studies.
The first port of call for the Social Studies class was lining up outside for an icebreaker.
"Are we kicked out already?" one parent joked.
We all laughed – because we knew the reality couldn't be further than the truth. If one thing was for sure, we were about to get schooled in twenty-first century education.
Instead of a blackboard, we stared at a projector screen.
Instead of shorthand and dictation, we talked out loud to one another, collaborating and presenting.
Instead of a sit-down desk for teacher Amber Stevens, she stood in the middle of the room, keeping an eye over devices and checking we were on track with our learning.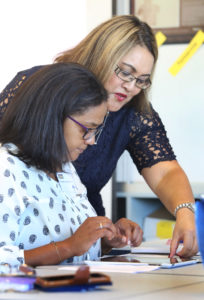 I was told if we were students, we wouldn't have been allowed in the classroom without a device that day.
How bittersweet. When I was at school, I wasn't allowed in the classroom if I had a device, let alone if I dared to actually use it.
It's important to balance the modern with the traditional, said Mrs Stevens, who has been teaching at the school since it first opened in 2004.
"We've spent so long telling them to shush, to wait their turn. Getting them to voice their opinions is something we need to crank.
"How we learnt at school was a test asking us to write down everything we knew… [but now] we use brainstorms. No one is wrong in a brainstorm."
Informative, inspiring and interesting – those were the words echoed by parents who attended Back to the Future – an enjoyable, successful event packed with culinary delights, courtesy of the senior Food Technology students.
The school plans to host Back to the Future 2 in March 2018.