Young illustrator and graphic designer Jeremy Kyle's mother couldn't contain her excitement when she found a letter in their mailbox addressed to her son from basketball legend Michael Jordon.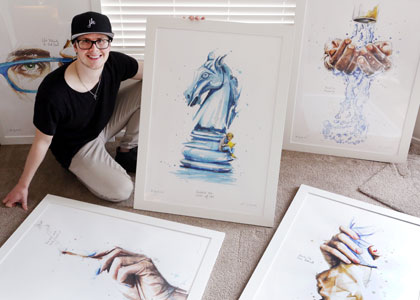 "Look, who you've got a letter from!" she piped up, as she handed over the sealed envelope to her son, 23, in the middle of the 'Times' interview.
Her excitement was contagious but the young illustrator and artist who was recently commissioned to do a series of artworks for the NBA's Chicago Bulls, decided to savour the moment later.
However, he couldn't resist whisking out a prized 50th anniversary game basketball autographed by the Chicago Bulls team that he received in the post a few days earlier.
"I have been in touch with Michael Jordon personally and told him how he is my role model. I do believe that you can achieve the impossible—like he did. I am doing it in my own way in the creative field," he said confidently about breaking personal and international boundaries.
"I do believe I am on the threshold of a world stage."
Apart from being commissioned by powerhouse brands like Under Armour, Dior, 2Pac Brand and Chicago Bulls, Jeremy's latest and most challenging assignment is for the United Nations.
"The UN project where all the world leaders came together has been a very meaningful one. It was for the first ever World Humanitarian Summit in Istanbul on May 23-24, where the UN asked me to create a series of artworks explaining secretary general Ban Ki-moon's vision for human kind.
"The vision is called 'The Agenda for Humanity'," says Jeremy pointing to the artworks that has international media contacting him for his views.
"When creating this series of works, I wanted to convey a real sense of unity and diversity while cultivating a sense of awe in the viewer.
"I have kept the concepts simple (not abstract) yet thought-provoking to ensure that all people understand and relate to the work.
The series speaks of the Agenda for Humanity that articulates five values: prevent and end conflict; respect the rules of war; leave no one behind; working different to end need; invest in humanity.
The New York Times along with History Channel has also been on long Skype chats with the local artist that has culminated in another major project.
Jeremy was recently commissioned to do eight illustrations  rebooting the all-time popular multi-generational saga in the 70s, 'Roots' that still inspires American art and society.
Known for its poignant and painful portrayal of an African-American family over generations, it's inspired millions of Americans to explore and embrace their roots.
Jeremy has been asked to visually communicate the artistic theme that traces personal identities, through lucid water colours.
He is working on an exhibition that will give locals and the media a glimpse of his work.