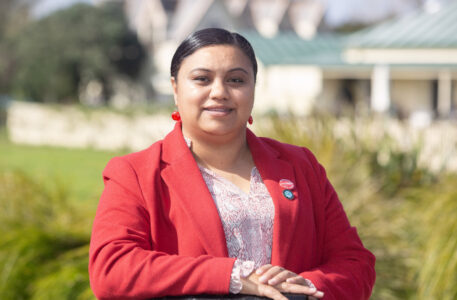 As a busy mum-of-three working multiple jobs, Nerissa Henry is well placed to know how the cost-of-living crisis is impacting thousands of Kiwis.
The east Auckland local is the Labour Party's Pakuranga candidate at this year's general election, scheduled for October 14.
Henry campaigned in the seat for Labour in 2020, finishing second behind incumbent National Party MP Simeon Brown.
She's an elected member of the Maungakiekie-Tamaki Local Board and serves on the Mount Wellington Licensing Trust, Tupuna Maunga Authority, and the Auckland Conservation Board.
"I'm born and raised in east Auckland and my family has been here for about 100 years," Henry says.
"I'm pretty proud to be able to always represent our community and still be here.
"I've been in politics for about 15 years so I'm not new to this space.
"I have a range of governance skills from grassroots to organisations and I have an environmental background.
"A lot of my passion is in conservation and waste minimisation."
At the previous general election her campaign's focus was for the party vote.
That worked as Labour won the party vote by 41.8 per cent to National's 38.3 per cent.
"I would love to be an electorate MP and I think the skills I have could easily cross over to that job," Henry says.
"We're going for both the party vote and candidate vote in Pakuranga this time."
Among the main political issues raised with her when she's campaigning is the high cost of living.
The Labour Government has implemented a range of measures to help people who are struggling to make ends meet.
They include targeted cash payments, cutting fuel taxes and road user charges, half-priced public transport for Kiwis on low incomes, increasing Working for Families and Superannuation payments and student allowances and main benefits.
"With the cost of living I feel like I can talk to that from experience," Henry says.
"As a mum and having to run our family, I work three jobs and still earn only the average wage.
"I understand the cost of living and that's been the core of the concerns I've been hearing."
Another major issue Henry is aware of is around crime and safety in the community.
She's been a victim herself, having had her vehicle broken into and copper stolen from her home.
"There's always more we can be doing [on crime], but when I look at it, the core is that family dynamic and how the family situation is running because that's the most influence on a child," she says.
"What I feel really passionate about is helping that core, which is what's happening in the family, the violence, and alcohol.
"You can do all these external things and we have many social services such as food [banks] and counselling, and the question is how do we get that family unit to become healthy?
"We can add more police, which we've done, and we can support more safety patrols and all of these things that we're doing.
"But what we've been trying to target is poverty in the home and kids being healthy because they're the next generation coming up."