Sancta Maria College has struck gold at the Tauranga Jazz Festival.
The festival was held near the Baycourt Community and Arts Centre in central Tauranga on March 31 and April 1.
It is the longest-running jazz festival in the Southern Hemisphere and in recent years has attracted more than 45,000 people.
The 43rd Annual National Youth Jazz Competition is part of the Tauranga Jazz Festival.
It showcases the very best emerging jazz players from secondary schools across New Zealand.
It featured the most competitors in its 43-year history with over 400 students competing.
Sancta Maria College entered two jazz combos, the Fantails and the Keas.
"Jazz combo names are named after birds this year," Thomas Cho, the student's teacher, says. "It's inspired by the late great Charlie Parker, an inspirational saxophone player, whose nickname was Bird."
The judges included Roger Mannis and Ben Wilcock. Both combos won gold awards.
The Fantails won the Dennis Huggard Trophy for the best first-year performance band.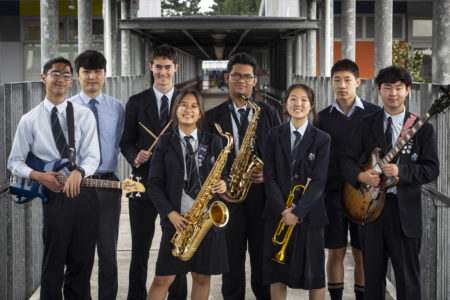 Jenna Aspeling, the leader of the Fantails, said they worked very hard and spent a large amount of time practising. "It was definitely worth it," Jenna said. "I am very proud of all of us for putting in the hours."
The Fantails and the Keas members have been playing jazz since Year 8 and 9. Typically they practice together once a week for an 90 minutes.
"On top of this," Cho said, "I demand a huge amount of hours from them individually practicing."
He said he wasn't surprised with the golds.
"To be honest, I did expect the two combos to win," he said.
"As someone who is actively in the jazz scene in Auckland, it was clear that the level of our premier combos was extremely high."
Additionally, the students got to have a jam session at Our Place at the Baycourt Community and Arts Centre.
"A few bands that signed up for it got to perform at the food court," said Cho.
"No competition, just a chilled atmosphere."
They also enjoyed the vibe at the TECT Jazz Village [Tauranga's version of the New Orleans French Quarter] and getting to experience performers from around the country.