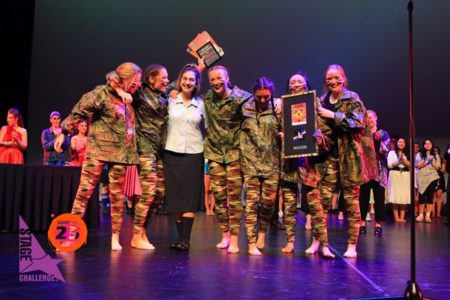 The Stage Challenge Foundation is excited to announce that after an enthralling nationwide tour which involved more than 15,000 participants from 170 schools, Henderson High School have won 1st Place in the 2017 OPEN Division National awards with their powerful performance, 'Picture Perfect'. Botany Downs Secondary College, also placed 1st in the RAW Division for the National Awards, with their performance 'Endangered Species'.
Henderson High School took to the stage with a hugely moving piece on domestic violence. They invited the audience to take a look behind the picture frames of a family's household; and to take a deeper look at what is really there. They asked the audience are families all that they seem? Or is there more behind the picture frames?
Botany Downs Secondary College's performance focused on the devastating reasons that many animals are endangered. The main reasons they covered throughout their piece were pollution, the ever growing human population and the destruction of their natural habitats.
National Judge Cate Prestidge viewed footage of schools that placed at every event throughout the country focusing on Concept, Soundtrack and Drama.
Prestidge offered nothing but praise for both Henderson High School and Botany Downs Secondary College.
In reference to Henderson High School's performances she said "A really sophisticated exploration of an issue affecting our society. Excellent dramatic performances from the leads and the ensemble in revealing the hidden nature of domestic violence."
When asked to comment on Botany Downs Secondary College she said that it was a "Visually stunning performance with innovative choreography. The theme of animal species endangerment, was well realised through very good costume choices and character and ideas revealed through some innovative physical performance."
Now in its 25th year, 2017 was another stellar Stage Challenge year, as youth throughout the nation continue to raise the bar with their creativity and expression. Prestidge supports this saying, "Another year of exceptional and entertaining performances and very little difference in the overall scores for all performances from the regions."
Cate went on to comment on the powerful themes that took the stage in this year's competition.
"I believe much of the value of the creative arts is the way they can highlight issues of importance to us individually, and as a society. It was evident students are thinking locally, globally, culturally, historically and ethically, and working in highly collaborative, disciplined ways to achieve these incredible performances. This should give us all great cause for optimism for the future."
Event Coordinator Olivia Kinane also comments on the event, "The success of the all of the schools involved as well as the results announced today, prove that regardless of region, age or the community support of your team, if you have the passion and the drive you can succeed. Stage Challenge is all about providing students an opportunity to learn and grow, both about themselves and a professional industry.
"This is why Stage Challenge is such a rewarding experience for many involved. We cannot wait to see what is created in 2018!"
Stage Challenge Production Manager, Duane Inocencio announced the Backstage crew winners – Mount Maunganui College. Mount Maunganui College presented Mr Inocencio with a highly detailed and professional 'Crew Portfolio', which outlined their props and the purpose of each in great detail.
Taking out  the title for the second year running, Mount Maunganui College has a tremendously organised backstage crew and work ethic.
Special mention to Cobham Intermediate, the National winner for Theme Originality. Cobham Intermediate was one of many intermediate schools that bravely entered into the senior competition. Their stunning piece 'Where would we Bee?" highlighted the key role in which Bee's play in the worlds ecosystem as well as our survival.
The Stage Challenge Foundation congratulates all of the schools that participated throughout the country. 2017 was another fantastic year of youth creativity and expression.