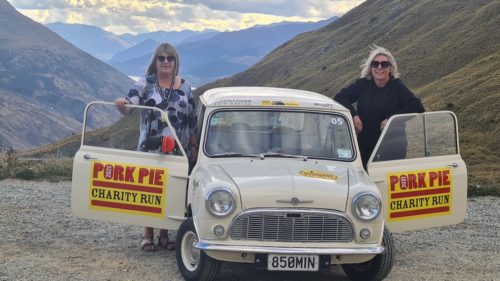 Two Beachlands women drove from Paihia to Invercargill to raise money for children in need.
Shona Beckham and Angela Whiting, along with their support crew Warren and Brian Denholm, refer to themselves as "the Magic Wanderers". Their vehicle for the Pork Pie Rally – a nod to 1981 New Zealand comedy film Goodbye Pork Pie – was a 1962 850 Mini.
The name, Magic Wanderers, began with the gear stick.
"It's on the car floor," Shona says.
"It was referred to as the magic wand – for it was magic if you could get the correct gear."
Shona and Angela's first cars were Minis. As a tribute, Shona's husband Warren Denholm bought and restored the same model.
More recently, their local sponsor, Avspecs Ltd, restored the Mini for the team.
"It took over two years to restore," Shona says.
"We always planned to be a part of the Pork Pie Charity run".
The close friendship between The Magic Wanderers spans more than 15 years.
"Angela and I met through our kids at Lily's Locker, the old day care," Shona says,
"She has four boys and I have two, so they grew up together."
The rally was an exciting endeavour to raise money for children's charity KidsCan which aims to break the cycle of hardship for kids in poverty.
They provide them with food, a warm jacket, solid shoes and feminine hygiene products through their schools and early childhood centre programmes. For KidsCan, they wish to give struggling families the same opportunity to learn as anyone else.
"I'm a former teacher," Shona says. "So I appreciate that the money goes to school children in need."
On March 26, the Magic Wanderers set out from Paihia.
"We had mechanical problems for the first two days," Shona says. "After that, it ran like a dream."
At one point the mini ran out of gas. Fortunately, they were prepared and brought gas in a can.
There were 50 other cars involved. The Magic Wanderers spent most of the rally alongside KidsCans teams.
"The management and accommodation was like a well-oiled machine," Shona says.
"It's extremely difficult managing 50 minis, but they did it very well".
According to Shona, the most difficult part of the rally was the breaks. They were extremely difficult on unfavourable roads. Still, the Magic Wanderers never expected to do so well.
On April 1, they arrived at Invercargill.
"It was amazing," she says. "Everything about it – the views, the car, and the people – was exciting and pleasurable".
In total, the rally raised was $300,000.
The Magic Wanderers came in 6th with $9000 raised. The donations are still currently open.
"Creations, one of our local sponsors, donated the proceedings from their cancelled charity run to our cause," Shona says.
"We are very grateful."