Gary Norton experienced a rare bit of magic on Valentine's Day, smack bang in the middle of Chinese New Year.
Norton, a member of the Whitford Golf Club, shot an incredible round of 60 at the Waikare Golf Club in Te Kauwhata in the Waikato.
He narrowly missed out on the mythycal sub-60 when he bogeyed one hole (the 18th, the last of his outward nine holes where he hit a 5) .
A fellow player called it a "fabulous achievement – not many golfers on the planet get to shoot 60".
Norton has played the Waikare course for several years. His previous best anywhere was a 67 "shot a few years back".
On the day played his best golf ever for the round of, the second placegetter hit a 75.
His February 14 effort still leaves him tingling. "It was one of those days," he said.
"When I got to 7-under I knew I was well ahead of my best score."
"The holes that I want to attack don't normally come off but on this day everything came together," said Norton.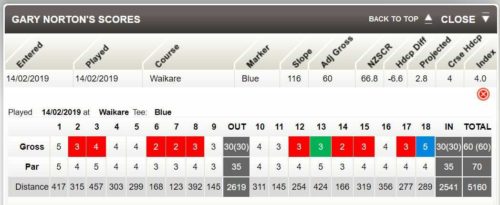 The brilliant round has sliced his golfing handicap from 4 to 2.6 which is "going to take a bit of adjustment".
Waikare's course record is 62, recorded 30 years ago, a time when golfers 'played the lie'. He therefore cannot claim that record but has been able to claim the 'clean & place' course record for his 60.
"It's a pretty surreal experience. I got the official scorecard which has been mounted at the clubhouse."
And next year? "From now on for the second Thursday of February we'll be down there with my mates."