Sunnyhills Tennis Club is celebrating after becoming the new Women's Caro Bowl Champion.
It was a very close contest, with a nail-biting ending with both Sunnyhills and Bucklands Beach winning three matches each and all of them on straight sets at Koru Tennis Club at Pakuranga Heights on Friday.
A games countback had to be calculated and Sunnyhills ended up ahead by 52 games to 48.
Head coach Gabriel Hernandez said although it is a relatively short season, there's a lot of work that went on behind the scenes into the Caro Bowl season, Auckland's premier interclub tennis competition.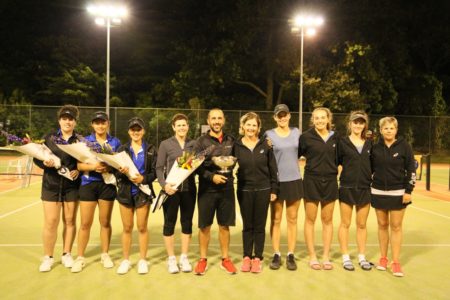 "A sincere thank you to every player that played for Sunnyhills during the season," Hernandez said.
"Kelly Southwood, as a great top team player, bringing loads of experience and top notch tennis.
Ema Miyaura, for being part of the team and a seasoned Sunnyhills Caro Bowl player for many years now.
Kelly Drew, for bringing that experience to the team and helping out the younger ones too during coaching.
Vivian Yang, NZ's number 1 junior player, Naynay Homkrun, as a late entry into the team but doing so well and being a consistent player in the roster throughout the competition.
Liz Lombard for jumping in with very late notice for the top doubles in the finals."