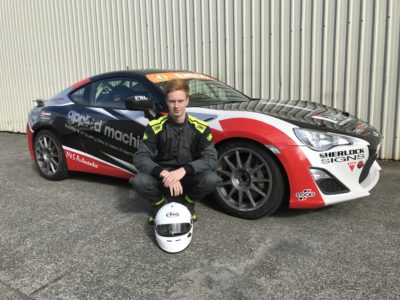 A 19-year-old race driver from Howick is among eight motorsport competitors from Auckland, Whakatane, Hamilton, Marton and Christchurch that have been selected to participate in New Zealand's world-class Elite Motorsport Academy programme for 2017.
The Elite Motorsport Academy is managed by the MotorSport New Zealand Scholarship Trust and run by world-class tutors from Academy of Sport South Island and the University of Otago's School of Physical Education's Human Performance Centre. The year-long programme for eight participants commences with a 'camp' in Dunedin in July each year where the participants learn a wide array of skills and techniques to aid their mental and physical fitness as a motorsport competitor, as well as the sponsorship and marketing, nutrition and media skills needed to succeed in the sport. The programme also provides a twelve-month follow-up package tailored for each participant to ensure they retain and further develop the training regimes and educational opportunities demonstrated during the camp.
Tony Herbert, one of five trustees, is looking forward to getting to know the 2017 class at the July camp. "The standard of competition looks to be as strong as ever, so we're confident these academy participants will work hard to benefit from the world-class programme which continue to evolve over the years."
The path that local race driver Jordan Baldwin took into motorsport includes speedway mini-stocks where he was rookie of the year in 2012/13, and then karts where he raced and won regularly in the senior Rotax classes. In 2016 Baldwin won the chance to race a fully-funded BMW E30 in the hugely-popular and competitive BMW Race Series from 21 other hopefuls. Now studying commerce at Massey University, he's now a regular top-three placer in the 64-car BMW series. He aims to race in the Toyota 86 Championship and then New Zealand's premier touring car class.
New Zealand's Elite Motorsport Academy first ran in 2004 with race drivers Nelson Hartley, Christina Orr, Chris Pither and Tim Edgell among the selected participants that year. Since then, many academy graduates have forged successful international careers such as Shane van Gisbergen, Brendon Hartley, Hayden Paddon, Earl Bamber and Mitch Evans. Other national motorsport governing bodies have consulted the MotorSport New Zealand Scholarship Trust on the programme's format and goals to assist the development of their own driver development programmes.
Representing race and rally motorsport disciplines, the talented young competitors selected for the 2017 Elite Motorsport Academy are:
Jordan Baldwin, 19, race driver, Howick, Auckland
Sarah Brennan, 25, rally co-driver, Christchurch
Arran Crighton, 19, race driver, Torbay, Auckland
Samantha Gray, 22, rally co-driver, Lincoln
Reece Hendl-Cox, 16, race driver, Whakatane
Kaleb Ngatoa, 16, kart/race driver, Marton
Job Quantock, 23, rally driver, Christchurch
Jack Williamson, 25, rally driver, Hamilton