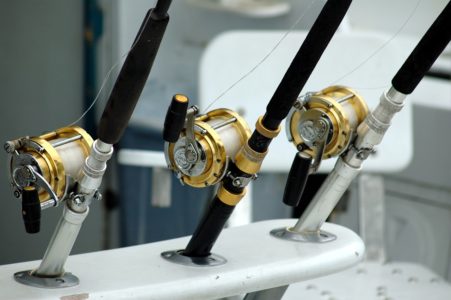 Although the weather wasn't the most favourable this week, there were a couple of windows in which anglers could get out there and give it a go. Those who ventured out there were greeted with wild work ups, big Snapper and lots and lots of Kingfish!
The Coromandel has been providing this amazing fishing action all week long. The Firth of Thames is full of anchovies which means plenty of food for our Snapper, Kingfish and Kahawai.  Big boil ups of them has allowed us fishos to get amongst the action.
Most people have been heading to the muscle farms to land their feed of Snapper and Kahawai and its still a good idea to start here first, but further down the Firth is where you will find the real treasure, Gurnard! Angler after angler has landed a brilliant feed of these most wanted of species, with most people claiming there is also bigger Snapper in this area.
The work ups are great for exciting fishing, how ever, when they start up, Snapper become hard to get at as those Kahawai wont allow you passed the surface as they take bait after bait and lure after lure. The best Snapper are landed before these work ups start.
Staff at The Big Fish caught some beautiful Snapper on heavier slider slow jigs, 100g or 140g are the ones to go for, even if you're fishing in 25 meters, as they cut through the Kahawai quick if they're there.
Another species in high demand and in big numbers as the moment, are of course, Kingfish! Plenty of these around and as most of us know live baiting is one of the top ways to land these fish. Get your hands of some good Sabiki rigs and half the work is done for you!
Top water has proven to be a great tactic given the right circumstances. With summer just round the corner we are soon to be treated to some new: popper, stick bait and towing lures, to land us a fantastic Kingfish.
The next weeks weather doesn't look so favourable for us fishos, so why not head in to The Big Fish shop to service those rod and reels, and maybe top up those tackle bags?