Andre Heimgartner says consistency is a key take-away from the weekend's Coates Hire Ipswich SuperSprint for the 22-year-old and the crew of his #7 Plus Fitness Nissan Motorsport Altima.
"Early on we struggled to find that set-up sweet spot but after taking on-board some of the progress of my team-mates we were able to put together a package that saw us advance a few spots during Saturday's race," explained Heimgartner, who on Saturday qualified 17th and finished the race in 15th.
"We made some further advancements on Saturday night and that saw us able to improve our qualifying a little bit to be 14th for Sunday's longer race. I was confident we were going to have a great race, however some early battles did see us lose a couple of spots and so I had to recoup those.
"In the end we didn't advance, but we didn't finish further back than what we started either and that is always a plus. We were able to manage the tyre life and make sure we could at least get back to where we started."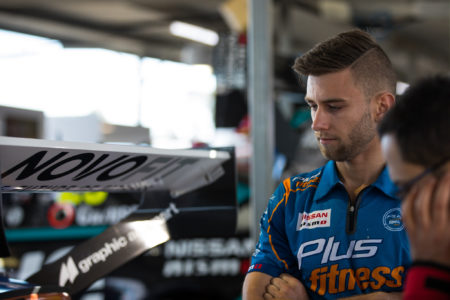 Heimgartner said it was "quite a solid weekend for us".
"Our package improved each day and we are starting to see some consistency which is really important," he said.
"Consistency is something we have been lacking and so I am really happy to see that starting to emerge and hopefully we can keep building on that and moving forward over the coming events."
He is now focussed on the next round in Sydney.
"I am really looking forward to the night racing format and 300km of racing gives you a lot of time for stuff to happen, so it should be a good event."
Earlier in the weekend, important work was also undertaken towards Heimgartner's endurance campaign, with co-driver Aaren Russell getting some laps in Friday's official co-driver practice session.
"The endurance season is really creeping up on us and it will be here before we know it, so it was great to see Aaren get some laps in the car during this event," Heimgartner said.
He will next be on-track with Nissan Motorsport in the Virgin Australia Supercars Championship for the Red Rooster Sydney SuperNight 300 event across August 3 and 4.