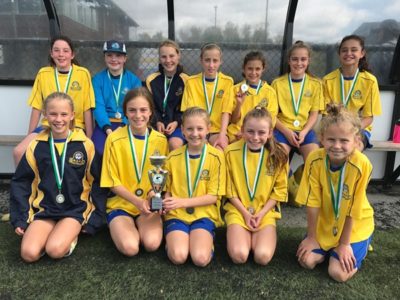 Girls at Bucklands Beach Association Football Club (BBAFC) have capped off a fantastic playing season.
The 12th grade premiership team wrapped up with a fine winning performance at the Western Springs Auckland U12 girls knock out tournament.  The winning goal was scored by Beth Stephens in the final in the second half of extra time – a goal made more special by it being her birthday.
BBAFC girls across all other age groups have had a successful season too.
All BBAFC girls teams from 9 years old to 17 years old play in the AFF (Auckland Football Federation) competition with each team competing against other clubs all across Auckland, it runs from the start of April until the end of September each year.
Coach Martin Bolton says BBAFC has established a comprehensive coaching programme specifically designed for girls football with "some of the best coaches that Auckland has to offer."
"We are fortunate to have Gemma Lewis coach our U16 girls team.  Gemma is an Ex Welsh international, Chelsea player and is presently the coach of the women's Auckland National League team and NZ women's U19 assistant coach.  Gemma has really raised the bar for the girls – this year, they competed in a league one to two grades above their age.
"We have a spring /summer academy for the girls who will be coached by Gemma Lewis and a new NZ Football Fern Emily Gillian.  Emily was the captain of the Macleans College First XI for the last 3 years and led the team to the Division one title this year.  We are very proud of both of these coaches who are very passionate about the development of young players in our area.  The quality of coach is everything for the development of these girls.  With girls as young as 4 years old playing at BBAFC the future looks bright for girls football in east Auckland area."