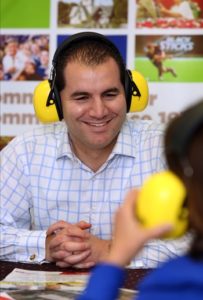 It was difficult, uncomfortable and hard to follow.
In a social experiment, Member of Parliament for Botany Jami-Lee Ross experienced what it was to be hard of hearing when the Times conducted an interview with him on Monday evening with him wearing hearing protectors.
Mr Ross agreed to participate in the Silent Leadership Challenge to gain a new understanding of how the hearing-impaired cope on a daily basis.
The idea behind the Silent Leadership Challenge is to make people more aware of how difficult it is for those living with the invisible disability.
The Times in partnership with the National Foundation for the Deaf decided to tackle three communication challenges to help address noise induced hearing loss and better understand work colleagues wearing hearing aids.
As part of the experiment Mr Ross wore bright yellow hearing protectors to stimulate deafness.
"My voice resounds in the headphones and I find it difficult to catch what you are saying sometimes. I can understand how difficult it must be at a more crowded place when people are talking simultaneously," he said.
According to the Listen Hear! New Zealand report released this year there are 880,350 people living with hearing loss in New Zealand.
On Friday, August 4 there will be a nationwide movement of corporate and community leaders making a difference for the one in six new Zealanders who have hearing loss.
The Silent Leadership Challenge offers a fun and collaborative individual/ team event with an important social message.
Lisa Talbot, project coordinator for the Silent Leadership Challenge says: "In a lead up to the event you can ask your friends, family and professional contacts to donate to a supporter web page and help you reach a fundraising target."
To end the silence on hearing loss, this year the National Foundation for the Deaf is asking for more people to front up and register for the worthy cause at www.silentleadershipchallenge.com.
The 10-minute fundraising event challenges to be undertaken on Friday, August 4 are a one-to-one meeting, a team meeting, a social get-together at a cafe and watching TV with the family.