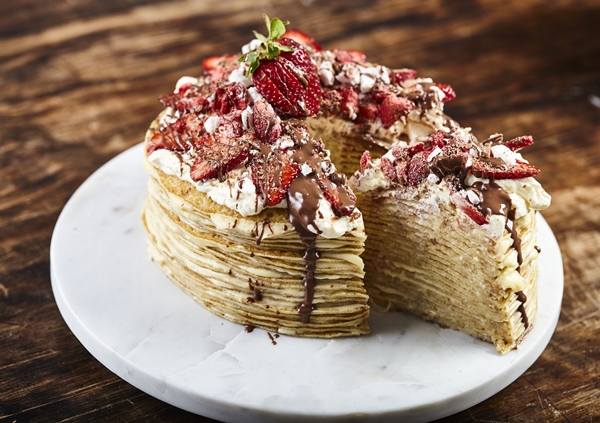 Entertaining has never been so easy
Hooray – it's that time of the year when Kiwis can relax, entertain and indulge themselves.
Of course, Christmas and holidays are when you need something in the freezer to make celebrating with others that little bit easier and you could say when it comes to sweet treats the proof is in the pudding.
Yes, just by storing a few packs of Marcel's crêpes and blinis to pull out when needs must, makes it easy to whip up nibbles or desserts fit for the best of Kiwi tables.
Marcel's freezer range includes Fancy Blinis (RRP $4.99) and Ooh La La Crêpes Gluten Free (RRP $5.99) – both easily defrosted and ideal for home or at the bach. So, to take the hassle out of planning here's a great recipe from Marcel to share.
Ingredients
• 3 x Marcel's Ooh La La Gluten-Free Crepes
Filling:
• 1 cup lemon curd (store bought or home-made)
• 200g mascarpone
• ¾ cup cream
• 2 Tbs icing sugar
• 2 Tbs sugar
Toppings:
• Extra whipped cream
• Fresh strawberries
• 50g grated chocolate/crumbled Flake bar
• Handful freeze dried strawberries
• 1 small meringue, crushed
• 100g dark chocolate, melted with a teaspoon of coconut oil
Method:
In a large bowl, beat all the ingredients for the filling until it's light and fluffy.
Heat crepes stacked on a plate (in three lots) for one minute in the microwave and then allow to cool until they're only just warm. Leave in fridge until ready for use.
You won't be able to move the crepe cake once it's completed, so assemble it on the plate you wish to serve it on!
It can help to place pieces of baking paper just under the edge of the first crepe, to catch any drips as you're layering it up with fillings. You can then easily pull the baking paper out when you're finished, leaving a clean plate, ready to serve!
To assemble, start with a crepe laid flat on your cake serving plate. Top crepe with a heaped dessert spoon of the mascarpone mixture; spread it right out to the edges. Top with another crepe then repeat until you've used all of the mixture. Cover with cling film and chill in the fridge for 3–4 hours or overnight.
When ready to serve, top your cake with whipped cream, sliced fresh strawberries, freeze dried strawberry slices, crushed meringue and grated chocolate or crumbled flake bar. Drizzle it with the melted dark chocolate just before serving. Slice with a large sharp knife.