Elvis concert a big success
Elvis impersonator Brendon Chase played to a packed, very enthusiastic crowd at the RSA on Saturday night.
Here's a photo of Michelle Sutton from Cruiseabout Howick being serenaded with rock hit Suspicious Minds by Elvis.
---
---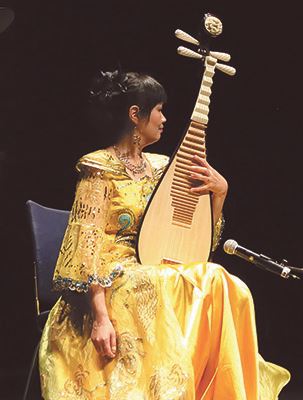 Unforgettable sound of Pipa
Uxbridge Arts and Culture Centre presents Gao Min this Saturday night in a unique musical presentation for the public.
The Pipa, an ancient Chinese flute with more than 2000 years of history, will be played by Min as she fuses the ancient sound with some western instruments for an exciting musical experience.
Vocals and dance will also be blended into the two hour show, starting at 8:00pm.
---
---
---
Dinnerplates in a Day at Uxbridge
If you're a hands-on craftsman with an interest in personalised crockery, Uxbridge's upcoming craft will be perfect for you. Dinnerplates in a Day offers attendees the opportunity to mould, design and walk awaywith their very own set of unique dinner plates.
This Saturday's session runs from 9:30am to 4:00pm, featuring a full walk through of how to create dinner plates and customise them, promising a fun-filled day of creativity for all.
Attendees must be aged 16 years and over.
---