Elvis at the RSA
Don't miss this Saturday's Elvis tribute show held at the Howick RSA starring Brendon Chase as Elvis.
Restaurant opens 5:30pm, concert begins 7:30pm. Tickets $20.
---
---
Classy crafters enjoy recycling
Bucklands Beach resident for eight years, Joanne Hall, is a regular stall holder at the Classy Crafts indoor market and a keen enthusiast of recycling.
"Mid 2016, I started designing and making bags after thinking about what I could do with jeans no longer in use," Joanne said.
"I decided to repurpose the jeans and create hand bags. Denim is a hard wearing fabric that never goes out of fashion and is a popular choice to many people. My idea is to design and produce one-of-a-kind bags that no-one else has.
"This fits in with my philosophy of not wasting pre-loved items. It is satisfying taking something nobody wants anymore and using my skills to create something attractive and useful," Joanne continues.
"It reduces landfi ll and hopefully encourages people to think of ways to make the most of what we have."
Joanne's bags are fully lined with a variety of pockets for all purposes and each is individually crafted.
Also a great fan of recycling is fellow crafter, Paul Sentch, aka 'the brass man'. Paul is a handyman who enjoys restoring pre-loved brass, silver, bronze and copper items many of which have been discarded or forgotten. Using cleansing agents, polishing sticks and brasso, a wide range of items are brought to shine on a bench polisher or buffed and finished by hand.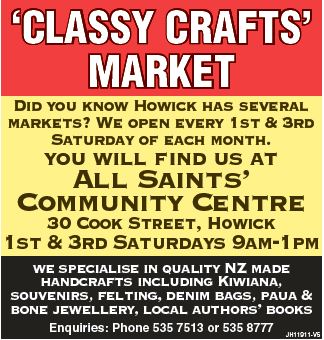 "I don't charge an hourly rate," states Paul. "I put in whatever effort is necessary to ensure the desired result is achieved. My biggest thrill is to see the finished item restored.
I enjoy watching the reaction of people when they get their treasures back in considerably better condition than when they first brought them in."
Rona Marsh, a resident of Half Moon Bay and a regular visitor to Classy Crafts, had a brass plate in her possession which had blackened over time and she considered throwing it away.
After chatting with Paul she decided to leave in his care. A fortnight later much to her delight the plate was returned in beautiful condition revealing an intricately engraved pattern in the brass and insets of silver and copper which had hitherto been hidden.
"I was absolutely blown away," Rona Marsh explained. "The restored plate is beautiful. I am gifting it to my daughter and am so glad I didn't throw it away."So if recycling is your thing, why not visit Classy Crafts indoor market, open 9am to 1pm every first and third Saturday of the month, at All Saints Community Hall, 30 Cook Street, Howick. You won't be disappointed.
---