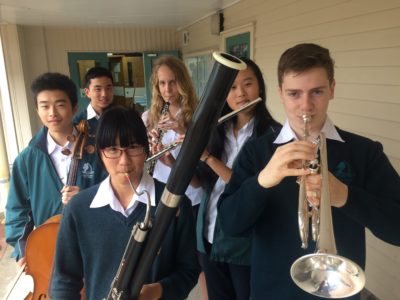 Taking a midday break on a cold, wintery Friday afternoon never sounded so good.
This June, Uxbridge Arts and Culture Centre present Fridays at Twelve featuring promising young local musicians ready to inspire and delight you with classical, jazz, contemporary and everything in between.
Pakuranga College, Macleans College, Botany College, Howick College and Sancta Maria College are the local schools involved in this year's production of Fridays at Twelve.
The collaborative project funded by the Howick Local Board provides an opportunity for students to showcase their talent to a supportive audience outside the school environment, while providing performance experience and an afternoon of community entertainment, said Uxbridge events manager Ashley Grogan.
The Times spoke to Pakuranga College's head of music Mike Young, who has worked to organise two groups of students representing the school at the June 2 concert.
It's a fantastic place for students to grow, showcase their talent and receive some positive feedback, he said.
"The reason I really like it is because it's not a competition environment, it's just a music showcase environment. The audience are receptive and encouraging. It's supportive instead of scrutinising and gives [the school] very good links to the local community."
Pakuranga College has been involved in Fridays at Twelve since its conception five years ago, when the afternoon concert series was called Classic @ 12.
Year 12 student and flute player Linda Lin, who took part in Fridays at Twelve last year, said she enjoys the opportunity to "play with good musicians" as part of the series.
Fridays at Twelve runs June 2-30 and starts at 12pm.