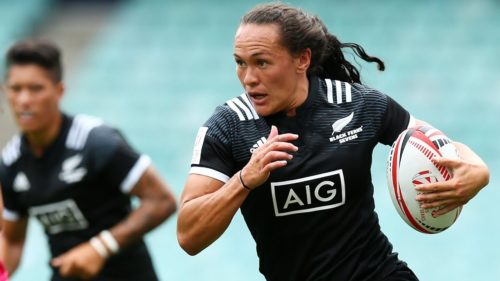 Portia Woodman's sensational Black Ferns sevens comeback against 2016 Rio Olympic champions Australia highlighted a great weekend for New Zealand rugby.
The 29-year-old scored three tries in Sunday's first game in Auckland and another in the next as the outstanding Black Ferns completed a 5-1 result over six 14-minute games.
Having suffered serious injuries which would have permanently retired most players, Woodman's comeback was heart-warming and showed she has lost none of her pace, strength and determination.
While the rise of speedy Michaela Boyd and Stacey Fluhler in her absence has helped maintain the Ferns fantastic winning streak, her welcome return strengthens the team further.
Ruby Tui and Shakira Baker are other speedsters who give this team incredible depth. Add the brilliance of lively halfback  Tyla Nathan-Wong, the all-round capabilities of Kelly Brazier and the sidestep and swerve of Gayle Broughton  and the team is blessed with exciting attackers who thrive on the workaholic contributions of captain Sarah Hirini and Niall Williams.
For Woodman, in particular, the Tokyo Olympics in July offers unfinished business provided they are not postponed for a second time because of the Covid epidemic.
It was probably because of her sin-binning that the Ferns lost their match-winner in the heart-breaking gold medal final loss to Australia in Rio when she was unable to be consoled.
Although losing the second game 19-15 in a competition designed to allow all squad members time to show their wares, the Black Ferns 19-9, 26-12, 15-12 33-12 and 19-12 wins demonstrated their superiority.
It was a similar story for the men who continue to thrive under the coaching of Scot, Clark Laidlaw.
With veteran forwards Tim Mikkelson and Scott Curry tireless toilers who combine speed with a strong work ethic, backs like Ngarohi McGarvey-Black and Regan Ware are thriving.
Meanwhile shed a crocodile tear for five Aussie teams trying to compete with New Zealand's in the trans-Tasman Super Rugby championship.
After two rounds, the score is 10-0 to New Zealand whose champion Crusaders thrashed theirs, the Reds, 63-28 on Queensland turf.
If Dave Rennie had plans to retain James O'Conner as the Wallabies first-five, magical Richie Mo'unga may have changed his mind after the Crusaders wizard scored three scintillating tries against him and added eight conversions for 31 points.
With his poise, balance, speed and whole repertoire of skills, Mo'unga at his best is like Damian McKenzie, a brave, daring crowd pleaser who brings spark to a game that is being choked by too many TMO calls, penalties and reset scrums.
Credit also deserves to go to a forward pack that delivers fast ball second phase from breakdowns as well as dominating scrums and lineouts.
Veteran right wing Bryce Heem was another to score a hat-trick in a powerful performance for the Blues in their 48-21 win against the Waratahs.
With the Hurricanes beating the Rebels 35-13, the Highlanders the Force 25-15 and the Chiefs the Brumbies 40-19, the winless Aussies had nothing to crow about.
Unfortunately neither do the NZ Warriors in the NRL despite the latest 30-26 win over the West Tigers which lifted them to ninth on the 16-team table.
Ivan Agnew is an award-winning sports writer