The unique bike that Daniel Strekier has built entirely from wood looks like a priceless piece of art.
While most people would think of it as an impossible task, the ingenious wood carver thrives on challenges. The skilled craftsman, who first arrived from Argentina to New Zealand for three months and stayed back for 12 years, says it is a dream come true.
"When I first landed in New Zealand with just enough life savings to last me for three months and very little English, the only word I knew in English was hammer," he says.
"There is a German saying that with nothing you can be clever."
While it took Daniel just a week to bag his first contract job as a shop-fitter at a fashion store on Queen Street, he says he was the crazy Argentinean who kept asking his boss for the toughest jobs to stimulate his creativity.
It was the same desire to push his creative limits that had him design a 60kg wooden bike with 22 gears and three hydraulic brakes.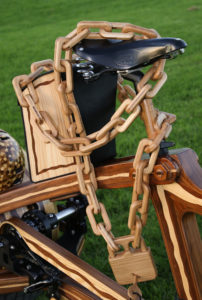 It was a casual conversation about helping his neighbour Bruce McKay out with making a barrier out of old racing car tyres for a radio controlled car track that sparked his imagination.
The passionate craftsman behind Masterpiece Wood Works toyed with the idea of using midget racing tyres to build a bike.
Running his hand across the intricately curved wooden mudguard he says it has 32 pieces of wood, all seamlessly joined together.
Each side of the wheel started out as a 16 pieces of flat wood that were joined together with finger joints to form a circle with flat edges.
The oak, walnut and ash coloured smooth chain guard has 12 pieces of wood, while the handle bar has six pieces of wood lined with five layers of carbon fibre.
Daniel says his eight-year-old son Theodore Lian Strekier would keenly watch him and was excited to help trial the bike.
Equally eye-catching are the laminated nuts and studs as is the wooden helmet he has created.
The wood carver takes special pride in showing off the wooden padlock which has just a tiny piece of pin for the key to fit in.
A wooden chain and the wood and leather saddle bag add to the finished look for this one-of-a-kind bike.
"Whilst building the bike I asked for inspiration to create a nice piece of art and that's why I named the bicycle Grace," he says.
Daniel first tried pedalling the bike from his home at Hutchinson Road to Eastern Beach. Later he dared to bike across the Hauraki Gulf Trail which had its share of excitement–as he tried not to head straight into a ditch.
He now plans to raise funds for a charity by biking from Cape Reinga to Auckland.
Currently training for it, his mind is already working on the next big piece of outstanding art.