Ten-year-old Shannon Rochester has just returned from Berlin and the Pokemon Championships and is now preparing to fly to North America.
He is getting used to travelling internationally with an all-expense paid holiday for travel and accommodation.
The Cockle Bay Primary School student has travelled to Sydney, Melbourne, Brisbane, Berlin all in one year and will be now heading to Columbia and Washington DC in August.
The Year 6 student says that what he loves most about the tactically intricate game of cards is strategising and meeting up with new people, apart from travelling and seeing new places.
Though at times "it is nerve-wrecking being pitted against the best players in the world from France, Italy, England, America and Oceania in Berlin", he says t is quite thrilling to be invited to world championships.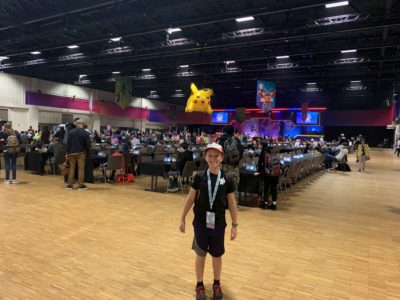 "You get funding for your trip only if you are graded as the top four in Oceania for an Australian tournament or top eight in the country for a world tournament.
"Also, you get straight into day two at the world tournament. If you win an event you get $500 on a card that you can spend on sightseeing or anything else whilst you are in the country."
Shannon, who was placed fourth at the Regional Pokemon Championship in Sydney, says that the flights and accommodation are paid directly by Pokémon.
For a game of cards that was once banned by schools because of students stealing cards that are a collectable craze, Shannon says that his school has been very supportive and given him shout-outs during assembly.
He says he particularly loves collecting decks of cards and Pokemon play mats at every event.
"There are some cards that are worth a lot of money and I feel very fortunate that the owner of Spellbound gaming shop at Aviemore Drive allows me to pick up a deck of cards before anyone else-every time he gets new stock.
"I also feel privileged that Ulterior Motive, the elite NZ team, invited me to be a part of the team which they haven't done with any other player."
His mum Bronwyn says that they invited him because they like his attitude. "Even when he loses a game, he takes it in his stride and enjoys the experience without breaking down."
She says that she would like to encourage other kids to play the educational, no-device game after seeing a huge difference in her other son who used to struggle with maths and reading.
"Now my younger son can now sit still for five hours at a stretch. His maths and reading skills have really improved.
"Unless parents can see how much it gives your child the game will die in our community," she says.
" If anyone wants to learn how to play there are hobby leagues at www.Pokemon.com."