Dannemora's Andre Heimgartner has book-ended his first weekend in the 2017 Carrera Cup Australia Championship with two victories from three races, after taking the race three win this afternoon.
By virtue of his results this weekend of two firsts and a third, Heimgartner has secured the championship lead and the round victory.
The 22-year-old – based in Melbourne – started the race from third on the grid after taking third in race two yesterday, but was on the limit from the outset.
After making it safely through the first corner, he set to work challenging David Wall for third – taking it on just a few corners later after some intense side by side running for the pair.
This left him with race leader Cameron McConville in his sights, and six laps later he was able to get it done with a strong and decisive move on the inside to take the lead.
Heimgartner's run to the flag was not without pressure, with yesterday's race winner David Wall keeping the 21-year-old Melbourne-based Kiwi honest over the next 14 laps, with commentators making note of Heimgartner's strength under brakes.
"That was a really rewarding race!" said Heimgartner.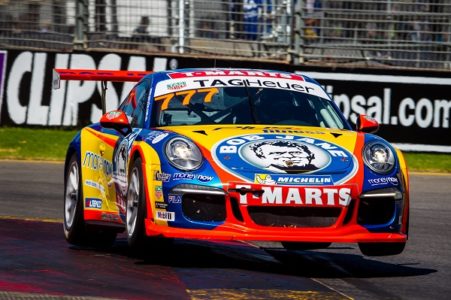 "We studied up overnight after yesterday's little mistakes and starting on the second row of the grid, I knew what I had to do, so I just put my head down and went after it.
"The battles with David Wall and Cameron McConville were full-on and very fun, there was a bit of bump and grind of course, but that is racing.
"David pushed me all the way to the end but I just kept focused and did all I could to just drive smooth and fast to the end.
"As far as my first weekend with Sonic Racing and the #777 Bob Jane T-Marts Porsche, I don't think this could have gone much better.
"I have been absolutely blown away by the support flowing in from all corners and I can't wait to get racing again at the next round to see what we can do."
Heimgartner will next be on-track with the Carrera Cup Australia Championship at the Australian Grand Prix in Melbourne, from March 23-26.