You could be forgiven for half-expecting to see Noah's Ark floating down the road at some point in the last week as continuous downpours caused pandemonium around the North Island.
South-east Auckland was among the first to be hit by the sub-tropical low dubbed the "Tasman Tempest" on Tuesday afternoon. Heavy rain overnight only made things worse with severe flooding forcing roads to close and resulting in a chaotic commute to work for most on Wednesday morning.
Clevedon, Beachlands, Maraetai, Whitford and Hunua were hit hard as floodwaters rose to waist-deep levels and threatened livestock, vehicles and property.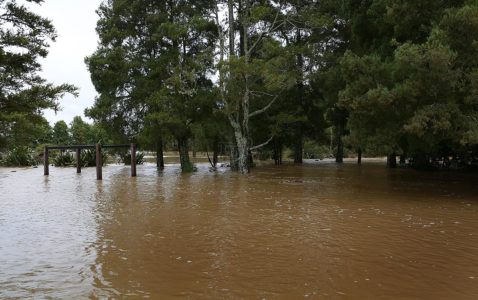 Thursday offered a brief reprieve from the deluge but it wasn't long before the rain returned, causing yet more slips, floods and road closures.
Friday's rain signaled the start of a wet weekend which lead to the postponement of Saturday's Barfoot and Thompson Auckland Cup Week race day at Ellerslie Racecourse along with the cancellation of sports games around the region.
National parks were also forced to close as normally serene rivers raged and overflowed.

While most residents chose to stay dry indoors, others took the opportunity to make the most of the floods.

Although the rain has moved on, Auckland isn't free to return to normal just yet.
Watercare is calling for residents to urgently reduce their water usage to avoid a city-wide boil water notice being issued.
Last week's "off-the-chart" rainfall washed large amounts of debris into the Ardmore Water Treatment Plant, which supplies up to two thirds of the Auckland region's water.
Watercare chief executive Raveen Jaduram said the plant is continuing to operate at half its capacity due to the "unprecedented" level of silt in the water.
A statement from Watercare said Aucklander's have successfully reduced their water consumption with total consumption falling to 382 million litres yesterday. The target range was 400 million litres or less.
But it's warning it will take a while for the water supply to be back to normal, with the Ardmore plant water clarity still 100 times worse than it should be.
Residents are being asked to reduce their water use by 20 litres per day until the end of March.
MP for Hunua Andrew Bayly today said in a statement there are 10 houses flooded in Kawakawa Bay, Ness Valley, Clevedon and Head Rd, Hunua with the evacuation of seven families required.
The Kawakawa Bay kindergarten flooded and will remain closed for at least one week and the Hunua Bowling club is also flooded.
Mr Bayly said the last three permanent resident families blocked by a large slip at the end of Kawakawa Bay now have limited road access and have been supplied with generators.
Twilight Rd and Orere-Kaiaua Rd are both blocked due to slips and the Maraetai Coast Rd is down to one lane in two places.
Mr Bayly said there are also concerns about the bridge on Head Rd, Hunua and Civil Defence have inspected.
Power has been restored to all but about 14 houses and Vector says the area around Kawakawa Bay Coast Rd will take up to five days to repair due to extensive damage and risk of slips.
Watercare's top water saving tips
Turn off the tap as you brush your teeth
Wait until there is a full load before turning on the dishwasher or washing machine
Fix leaks. A dripping tap can lose 1,000 litres per day. A leaking pipe could be a drain on your finances, as well as a waste of water
Take shorter showers
Turn food scraps into compost, rather than flushing them down the waste disposal
Shopping for a new appliance or plumbing fixture? The Ministry for the Environment's Water Efficiency Labelling Scheme tells you how various washing machines, dishwashers, toilets and urinals, showers, and taps measure up
Let the lawn grow a little – it strengthens the root system and reduces the need for water. Seven or eight centimetres is a good height
Get rid of weeds – they suck up moisture that could be maintaining your plants – and cover soil around plants with mulch, straw or grass to retain moisture
Water your garden in the early morning or evening to minimise evaporation. – For maximum efficiency, install trickle irrigation – otherwise, use the hose, rather than a sprinkler
Washing your car, boat or dog? Use a bucket – and do it on the lawn, rather than on the driveway
The water s​avings apply to everyone living in homes as far north as Waiwera and as far south as Pukekohe.​​