A fully upgraded Grangers Point could be the jewel in the Bucklands Beach area's crown.
Grangers Point is poised for future development as the Howick Local Board, Auckland Transport (AT) and Auckland Council consider addressing better beachside paths and solving coastal erosion by restoring the popular Bucklands Beaches.
Grangers Point separates Little Bucklands Beach from Bucklands Beach and has long been a focal point for sailing. The original clubhouse was built in the sixties also accommodating winter haul-out for boat maintenance.
Bucklands Beach Yacht Club (BBYC) is now recognised as the BBYC Sailing Academy and still accommodates winter haul out. The sailing club has nurtured and trained budding young sailors since the 1960s.
BBYC club manager Lyle Tresadern said the BBYC Sailing Academy trains more than 1000 young sailors each year across several programmes from the "Have a Go" primary schools involving local schools, through to the progressive New Zealand Qualifications Authority approved sailing programmes which involve secondary schools.
"This area has been an important factor to international sailing success, with the area having produced more Olympic sailing medals and more offshore champions than any other small body of water in the world," Tresadern said.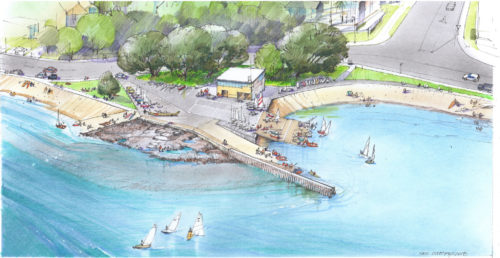 "BBYC Grangers Point is an important community facility. In addition to the junior sailing centre, there is a race control tower for keel yacht racing, a community meeting room used by art groups, toilets that are available for public use and an all-tide deep water launching ramp. But due to many reasons, the facility is not meeting its full potential and requires an upgrade."
To coincide with new local authority attention towards upgrading these beaches and paths, BBYC is planning to partner with the local board, AT and council under the Community Facility Partnerships Programme to redevelop the Grangers Point site.
"It is envisaged that Grangers Point will become a community ocean sport and marine education facility that will satisfy existing needs and future demand," Tresadern said.
Under consideration as part of the redevelopment, features include:
Redevelopment and enlargement of the building to include more meeting rooms and function space, boat storage and workshop, haul-out equipment storage, accommodation and event/water safety observation and control tower
 A water safety focal point for the Tamaki River providing faster potential response times
New public toilets, changing rooms and showers
Complete beach restoration covering reticulated, vertical and stepped stonewalls north and south of Grangers Point
New breakwater, boat ramp, floating ramp and dock.
Roadside and oceanside duel footpath/cycleways
New dinghy and sailing boat lock-up facility
Creation of a reef on the western side of the hardstand with tidal pools which will improve biodiversity
"The upgrade will allow for a wider range of user groups than just sailing and haul-out," said Tresadern.
"It could store other man and wind-powered craft equipment such as waka ama, dragon boats and windsurfers. Ocean Swimming and triathlon training and events could be safely staged here.
"School groups could use the building and learn about the diverse all tide marine ecosystems and tidal currents all close at hand. It could host major ocean sporting events and attract high-level athletes wanting to train here – all boosting the local economy."
To have your say by March 20, go to https://akhaveyoursay.aucklandcouncil.govt.nz/howickplan