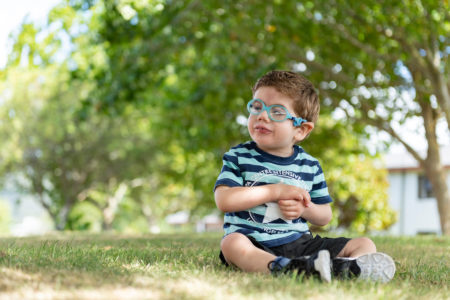 Ian North plans to walk at least 47 kilometres from the Bombay Hills to the Cenotaph outside Auckland's War Memorial Museum.
And that's only if they take the short route, the 68-year-old from Pakuranga says.
But he's got a very good reason for taking on such a crazy challenge.
Ian is joining the last leg of a 700km walk organised to raise funds for his grandson Elijah, who was born with microcephaly and an undiagnosed genetic condition.
The #Walkforwonderboy mission is a walk from Wellington to Auckland that was set up by Elijah's mum, Laura and dad, Ian's son, Tane North.
Being born with microcephaly means three-and-a-half year old Elijah has a small head, caused  abnormal brain development.
On top of this, most of the rest of his body is affected by the genetic disorder.
Elijah cannot speak, is legally blind, and is fed through a tube.
He also has a total of 14 health issues that he has to face daily.
While he might need a lot of support and assistance, Ian says he admires his grandsons resilience and 'never give up' attitude.
"Our mokopuna grandson is a handsome, determined, happy boy who never stops to amaze me in the things he learns, the speed at which he learns them and the determination with which he does them," says Ian.
"I only hear him cry when he is either frustrated or hurt, but rarely when he stumbles – he just frowns, and tries again."
Elijah has helped their family learn the importance of strength and determination in the face of adversity, Ian says.
One thing that has made a huge difference to Elijah's development and wellbeing is following four three week treatment programmes at the Neurological and Physical Abilitation (Napa) Centre in Australia.
So the family are trying to raise $56,000 to send Elijah back to the NAPA Centre for further treatment.
Every cent raised on the Givealittle page for the #walkforwonderboy mission will go towards paying for Elijah's treatment.
Ian says that as active as he likes to think he is, the walk is going to be a huge challenge.
"I thought I would just be helping them as they arrived, but then got told that I would be meeting them at the Bombay Hills and I would be walking/jogging/running/struggling my way with them to the Museum Cenotaph."
But he says helping his grandson in his development and wellbeing makes the journey worthwhile.
And he says it doesn't hurt that his wife believes he can do it.
Laura and Tane North, Elijah's parents, will walk up to 80km a day, broken up into four blocks that they will alternate.
Ian will be waiting for the group at the Bombay Hills where he will hit the road for the remainder of the journey.
#Walkforwonderboy left Pukeahu, Wellington, on March 13, and arrives at the Auckland War Memorial Museum on March 23.