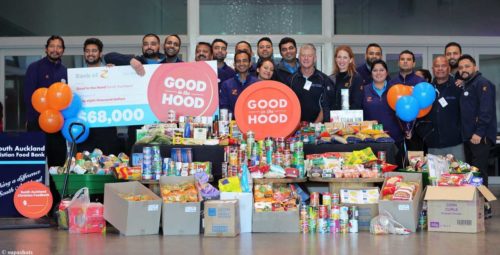 Local voters in south and east Auckland have determined what needs will be addressed in their communities with Z Energy's Good in the Hood funding.
And those supporting the needs of children and their families in our community often came up on top.
During May, customers voted for how funding should be split between 54 local groups supported at Z stations in the south and east. Each charity received a proportion of the $4000 allocated to each service station in addition to a national Fuel Day where 6c per litre was donated to Good in the Hood, making the total given away on the day more than $84,000.
In addition to the monetary funding, Z Service Stations in the area, operated by Wayne and Melanie Kennerley, also created a 'Mountain for Good' for the South Auckland Christian Food Bank. Their initial donation of $1000 of food items was built upon by Reremoana School in Wattle Downs which added 430 cans from a Food Bank day and then guests attending the Z event also generously supported with food items.
The cheque presentation event started with a Waiata from the Reremoana School Kapa Haka group and was followed by cheque presentations to all sites. Melanie Kennerley, Community Champion for Kennerley Retail Investments, spoke on the history behind Good in the Hood and its long-standing relationship with the South Auckland Christian Food Bank.
The Good in the Hood community funding programme awarded more than a million dollars this June to around 800 Kiwi groups across New Zealand doing good for people or the environment in the area around every Z service station.
And here are the results:
Z Botany Downs
Life Education Trust Counties Manukau 919
Prostate Cancer Foundation of New Zealand – East Auckland Support Group 1199
Breast Cancer Support East Auckland 1319
Bellyful East Auckland 1519
Z Clevedon
Clevedon Plunket Clinic 1049
Kawakawa Bay Kindergarten 889
Kawakawa Bay Orere Health Clinic Inc. 1319
Coastguard Maraetai 1699
Z Harris Rd
Totara Hospice 1239
Look Good Feel Better 1439
Sweet Louise 1239
John Walker Find Your Field of Dreams Foundation 1039
Z Highbrook
South Auckland Christian Food Bank 1039
Life Education Trust Counties Manukau 1039
Totara Hospice 1339
Radio Lollipop 1539
Z Ormiston Rd
Raise Up Otara 719
Totara Hospice 1439
Otara Waterways and Lake Trust 759
Habitat for Humanity Auckland 2039
Z Pakuranga
LifeKidz Trust 839
Communicare Howick Friendship Centre 839
Howick Volunteer Coastguard 1839
Howick Pakuranga Community Patrol 1439
Z Te Irirangi Dr
Totara Hospice 1639
Dawson Primary School 959
John Walker Find Your Field of Dreams Foundation 919
Victim Support Tamaki East 1439
Z Ti Rakau Dr
South Auckland Christian Food Bank 1239
Communicare Pakuranga Friendship Centre 1239
John Walker Find Your Field of Dreams Foundation 1039
Counselling Services Centre 1439