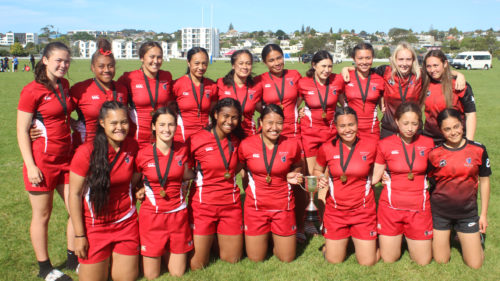 Girls rugby at Howick College continues to go from strength to strength with two impressive tournament wins this season.
The U15 7s team, led by Shalah-Maye Jackson and Aleksandra Tunufai, and the Open Girls 7s team, led by Abby Lockhart and Luisa Togotogorua, both took out their respective Auckland Rugby Secondary Schools 7s 2020 tournaments.
The Open Girls team scored an extraordinary 37 tries throughout the tournament with only 1 try scored against them. The tournaments held on October 16 for the Open grade and October 22 for the U15s, will lead into the main secondary school event for the year, the Condor 7s National Tournament, which will be held at Kings College from December 10-13.
Both Howick College 7s teams were coached by Waisake Sotutu and Hare Makiri.
The Howick College Girls Rugby 10s were also showing strong form and were leading their pool with an impressive 238 points for and 5 against before Covid-19 hit. Coach Regina Sheck, ex-Black Fern, has enjoyed her new coaching environment and working with these talented young women.
Past Howick College students, Isla Norman-Bell, Teuila Sotutu and Leianne Tufuga have been named by NZ Rugby for the upcoming Red Bull Ignite7 tournament which will feature a Live Draft on November 30 to be broadcast on SKY.
Sapphire Abraham, also an ex-Howick College student, was named to play for the NZ Barbarians in their game against the Black Ferns at the Trust Arena on November 14.
Howick College Girls U15 results:
Pool game vs Otahuhu: 39-0
Pool game vs Avondale: 17-12
Quarter final vs Aorere: 33-5
Semi final vs Mt Albert Grammar: 19-12
Final vs One Tree Hill: 24-14
Howick College Open Girls results:
Pool game vs Aorere: 50-5
Pool game vs Onehunga: 43-0
Pool game vs Avondale: 48-0
Pool game vs Auckland Girls Grammar: win by default
Semi final vs Southern Cross: 52-0
Final vs Auckland Girls Grammar: 40-0
Howick College girls named in the following:
Inaugural Blues U18 Camp for Girls
Dayna Moon
Abby Lockhart
Luisa Togotogorua
Auckland Rugby U18 Emerging Talent
Dayna Moon
Abby Lockhart
Luisa Togotogorua
Dajian Brown
Kylah Olliver
Paige Makiri
Edyn Paul
Aleksandra Tunufai
Leevy Wells
Elenoa Gukirewa