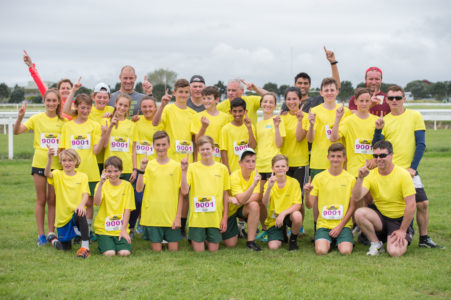 Somerville Intermediate placed first in the schools division at the recent Steelformers Around The Mountain relay.
The team of 17 runners each took at least one turn to run a leg of the tough 150km course, with the first leg starting at 2:30am.
The team was off to a strong start with student Logan Marshall determined to give the team a good lead in less than ideal cold, dark and rainy conditions.
Special mentions go to Kyle Low and Matthew Lindsay who both gave stellar performances on long distances and Matthew Barker who kept smiling with dad Michael Barker riding on his bike beside him.
The weather began clearing around 6:30am when van two joined the race with the afternoon consisting of smooth transitions and runners who encouraged and supported their team.
Amelia Carr showed complete perseverance when faced with hill after hill, while Brook Conover made short work of her runs. Impressively, Matthew Lindsay ran a 3km sprint in just 12 minutes while William Holland made short work of his seemingly effortless 11.9km run in good timing.
Sheer hard work and dedication helped the team make up the remaining 20 minutes between them and the leading high school team in the final stages to steal the division win by one minute and three seconds for a fourth place overall.
The team consisted of Logan Marshall, Kyle Low, Matthew Barker, Matthew Lindsay, Kayla Conover, Noah Page, Josh Borland, Kyra Silcock, Caine Bethune, Brooke Conover, Josh Holland, Mitch Carr, Reuben Ferguson, Kyan Brown, Dylan Koshy, William Holland, and Amelia Carr.