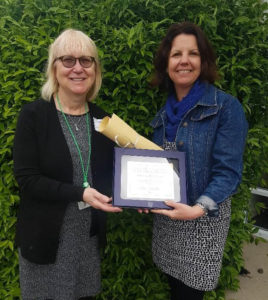 A Sunnyhills School teacher has received a prestigious award for excellence in teaching.
Kim Madden recently received a Jim Campbell award for Excellence in Teaching for her role as a specialist maths teacher.
She received the award from Gillian Frankcom, president of the NZ Association for Mathematic Teachers.
Mrs Madden's role includes upskilling the teaching of mathematics through the whole school and working with students to increase their learning in mathematics.
The award citation says Mrs Madden has had an "amazing impact" on students in the 'below standard' mathematics category, with 89 per cent of students at and above the standard and the subject now the strongest curriculum area of Sunnyhills School.