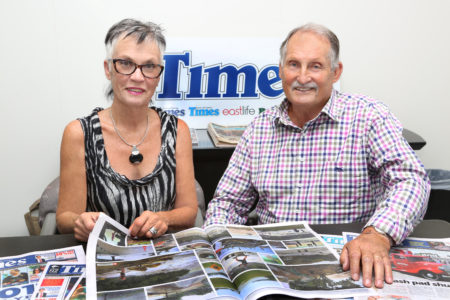 The founder and managing director of Times Newspapers Ltd Reay Neben is pleased to announce that she and husband Brian have bought back a minority shareholding held by Fairfax Media meaning the company is again 100 per cent locally owned and operated.
"This is a great opportunity for us to continue to grow and develop our popular Howick and Pakuranga Times and Botany and Ormiston Times titles," Mrs Neben said.
"We employ a great team of loyal people and with the support we have always had from the community, we will continue to do big things."
While technological advancements have brought many changes, Mrs Neben finds it difficult to reconcile social media offerings with traditional news delivery.
"I do see many strengths of Facebook and Twitter but I question the veracity of much of the material published on social media sites," she said.
"I don't know how they will record local history in the future. Howick is celebrating its 170th anniversary this year and for 46 of those years the Times has been recording events as a journal of record."
She declares too that print is far from dead.
"I believe you can't replace your local newspaper, its news, its classified section, its advertising. It reflects who we are… parochial and local.
"It has been from a position of privilege that we have held being part of this great community for 46 years.
"We are still in your letterbox every week and free."