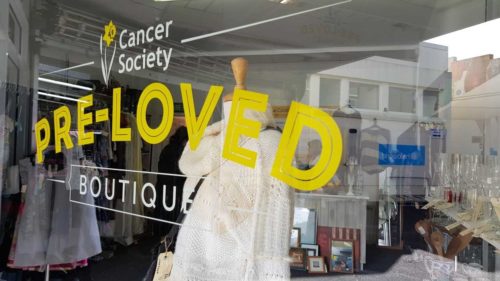 The Cancer Society Pre-Loved Boutique in Howick's Rice's Mall is the crème-de-la-crème of op shops.
And as its relatively new shop manager Gabrielle Brcic will tell you, it is a great little shop with superior bargains. Really. Where the larger charity shops might not be so discerning and throw sometimes-random prices on their goods, the Pre-Loved Boutique has an eye for the better quality products at very decent prices.
Many are still discovering the little store and finding fantastic treasures there too.
Gabrielle has re-designed parts of the store to provide more logical and accessible displays and she's chosen to be select with the boutique's offerings so won't generally stock electrical goods (the cost of running checks negates any chance of a bargain), records or CDS. DVDs however are popular and easy enough to display.
Two volunteers on each day ensures there's cover for everyone, particularly when they're overwhelmed by shoppers.
Gabrielle's background in both jewellery and charity shops has given her a good eye for valuable items and an understanding of the mix people want to see when they're on the lookout for a good buy.
Small things like using better shelving and cabinets to show off the shop's wares has worked a treat, as evidenced by a noticeable increase in goods sold each week and dollars coming in – all crucial for the Cancer Society and its work.
Another example is the half-price rack that used to take up room in the shop.  "When I started I watched it for a while and decided to do away with that and went for a $5 rack outside the door," Gabrielle said.
It did the trick. Last week she held a week-long book sale. Another success. The week before that was a half-price sale. "I don't do sales all the time but if we want to raise the profile of the store, there's a few things we can do."
Another significant change was moving away from a predilection for women's gear like shoes, handbags and the like and going for a bit more variety. Again, a winning formula. But she's kept hold of the high-end quality women's products – they are still the biggest seller in-store. The fact it is a boutique charity shop makes all the difference – it stocks much better quality goods than those found in bigger stores.
Most of the goods are dropped into the shop directly whilst the balance comes from Domain Lodge, the Cancer Society's headquarters in Grafton.
And there are some memorable pieces. One eagle-eyed customer immediately spotted Waterford crystal dessert dishes and paid $250 without hesitation.
And soon they'll be housing the better-quality jewellery in a cabinet.
Buying is easier too – the shop takes credit cards. They also run a very simple loyalty scheme.
"It's just a great little shop," says Gabrielle.
"I love it – you never know from one day until the next what you're going to sell. Every day is like Christmas. You don't know what you're going to get."
The Cancer Society Pre-Loved Boutique, Rice's Mall, Howick. Phone 537-1127. Monday-Friday 9am-4.30pm; Saturday 9am-1pm.