A peek through the theatre doors of Uxbridge Arts and Culture on August 11 will unveil Enchante Cabaret–an ode to classic burlesque with award-winning entertainers.
Think decadent glamour, pure opulence and a bit of a tease.
For the first time, five of New Zealand's top, multi-award-winning burlesque artistes are coming together to dazzle the audience with their costumes and entertain them with  hurly burly lampoonery at Uxbridge Arts and Culture.
Mistress of ceremony and stand-up comedian Verity Johnson will introduce the tantalising titian-haired Sophia St Villier; New Zealand's favourite burlesque duo Ballet School Dropouts; Lilly Loca known for putting the Va Va Voom into Vaundeville; sultry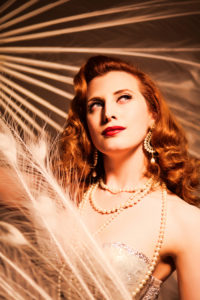 and seductive Trillion; and mesmerising Dahlia Dangerous.
Howick resident Sophia, who has just returned to New Zealand after a nine year stint in the UK, will be performing two acts from her repertoire – La Vedette Anatomique and Fairy Queen in the upcoming show <ITALICS> Enchanté Cabaret. She says she is really excited about performing with a great representation of talented artistes in lavish costumes.
Sophia, who has performed in London, Rome, Milan, Stockholm and  toured with a burlesque production company in Germany for almost 18 months, says her favourite part of a show is the energy she shares with the audience. "It's pure magic!"
Talking about the bump n'grind workshops she hosted in the UK, she says that she loves teaching, "especially when it is so much fun for people to learn about the history of burlesque in 1950s".
"Those days they would have uniformed police sitting in the front row so that they could count the number of times they moved their hips. It was considered amoral if you moved your hips more than four times!"
Sophia says that she often finds that for most shows more than 75 per cent of the people in the audience are women.
"They absolutely love it when we teach them how to walk with their shoulders back in a workshop. It's almost like they have the permission to take up all of the space on stage. Besides, women love the glamour of wearing elaborate costumes of feathers and rhinestone. Everything is heightened and sensual and the moves come with working with your own strength."
A great fan of femme fatale and tough broads she says, "Life is a cabaret."
"The costumes are quite an investment, and I remember the times when I was doing burlesque on a budget. When I first moved to the UK, the NZ dollar was very week and I'd often do crepe paper costumes that I'd tear off on stage," she says.
Having come a long way, the svelte mother of an 18-month old baby says that she can't wait for the curtains to go up on Enchanté Cabaret, curated by multi-award-winning burlesque artist and performance art teacher Natalie Hugill.
Date: Saturday, August 11
Venue: Uxbridge Arts & Culture
Time: Doors open 7pm, show starts 8pm