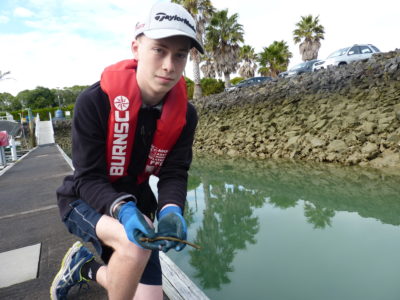 An invitation to work with some of the country's top research scientist is a huge honour for a Year 10 student of Howick College.
Now he has to wait for two years before he is old enough to accept the scholarship.
Ethan McCormick worked with the ubiquitous Mediterranean fan worm to investigate levels of water pollution in waterways. His findings reveal that though the marine worms have got a bad name, they are good indicators of bacteria in water.
The science project that won him a first place in the Environmental category and a best Year 10 Project Award at the NIWA Manukau Science Fair has also evoked the interest of scientists from University of Otago as well as Auckland University and the Auckland Council.
Ethan is thrilled that a hands-on Otago University Scholarship allows him to work in the lab with some of the leading scientific minds in the county.
"I am too young to go now so have to wait till I am in Year 12 or 13," says the 15-year-old.
"Though fan worms are an invasive species, they are being contained and not eradicated for the time being in New Zealand," he says.
"New Zealand's waters are currently being negatively impacted by pollution. I wondered what could be done to improve the situation.
"The Mediterranean fan worm is a filter feeding marine worm that arrived here in New Zealand in 2010. The worm is considered an invasive species as it competes for food with other native species and can spread rapidly, smothering huge areas."
Passionate about the environment, Ethan decided to study the ecological impact of the fan worm and how it could possibly be used for more accurate water quality monitoring of bacteria.
After close observation and going through a process that "may gross out the readers", he found that the fan worm is able to filter out phosphates (nutrient type) and enterococci (a type of bacteria) from water.
"I also found that the fan worm is an accurate bio-indicator of enterococci"
"A bio indicator is something that gives information about its surrounding environment," he explains. "The fan worm accumulates a lot of bacteria from the surrounding water. This means the levels of bacteria in the worms is much higher than in the water and can possibly mean the worm can be used for more accurate water quality testing."
Ethan is using this project to apply for the Silver Crest with the Royal Society.
"It has been great to have the support of Professor Gilliam Lewis, Professor Andrew Jeffs, scientists from Auckland Council and my science teacher Mr McSweeney," he says.
The keen golfer says: "Scientist from the Cawthron Institute, (New Zealand's largest independent science organisation that supports the environment and development within primary industries) find this information is useful to them in understanding the ecological impacts of the worm.
"I have also given these results to scientists at Auckland Council and Auckland University."