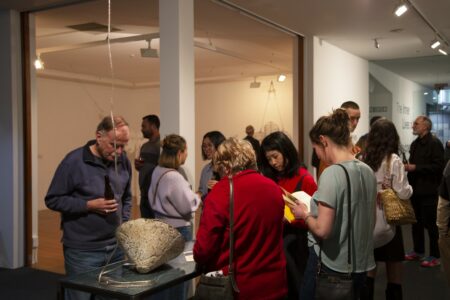 Local contemporary art gallery Te Tuhi opened its winter exhibitions on Saturday May 29.
A large crowd was in attendance – showcasing the diversity and number of curators and artists.
The two major exhibitions have been curated by emerging Auckland curators Amy Weng and Robbie Handcock.
Amy Weng has curated They cover the house in stories, featuring four Aotearoa artists.
Regular collaborators Xin Cheng and Eleanor Cooper present their research into Pupuke Moana (Lake Pupuke) and Te Auaunga (Oakley Creek) in the form of audio recordings and a set of postcards.
George Watson explores the aesthetic and decorative conventions of early New Zealand settler culture that shape "our understanding of place, property and belong," Te Tuhi says.
In Bridget Reweti's new body of work, the artist draws together poetic and metaphorical images of journeying to create sculptural works that stretch across time.
Handcock has curated The Inner Lives of Island which explores storytelling from artists from across the Asia-Pacific and how these might reflect ideas of nationhood and identities from this region.
Christopher Ulutupu presents a newly commissioned video work that includes scenic natural landscapes, dramatic musical numbers and a cast of family and friends.
In her surreal 2014 film Moomin Family goes on a picnic to see Kannon, Japanese artist Yuki Iiyama casts her own sister who details her hallucinations of the Moomins.
Sculpure was also included in the exhibition.
Emerita Baik's circular sculptures combine traditional and contemporary techniques. Sione Tuívailala Monu references traditional practices as its part of the artists ongoing work with nimamea'a tuikakala, the Tongan fine art of flower designing.
Te Tuhi's winter exhibition is on until August 22.