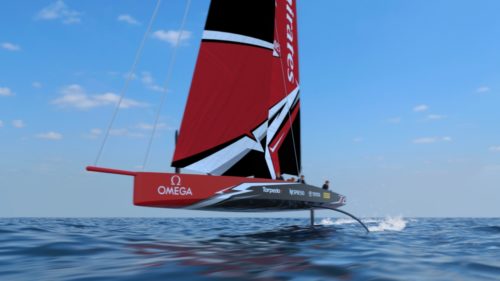 Super fast AC75s America's Cup yachts are also super risky machines which struggle to stay on their foils.
That's my uneducated assumption after watching Peter Burling's Team New Zealand win the three-day World Series on Sunday when there were almost as many foil spills as thrills.
Having shared wins with Dean Barker's American Magic after losing to that crew in a trial earlier in the week, Burling scored two good wins against Jimmy Spithill's Luna Rossa and twice blitzed Sir Ben Ainslie's hapless British mob.
But Te Rehutai went within a terrifying whisker of crashing into a mark in one race which could have done serious damage to yacht and crew.
Burling readily admitted to his mistakes and those when he badly fluffed a couple of starts on super fast yachts which sailors are still struggling to master.
Burling was by no means the only champion skipper to make mistakes on rocket boats where sailors need to find a balance between risk and speed. Given their calibre, it's obvious there is still much to learn.
The challengers will get further chances to hone their skills in the Prada Cup series over January and February whereas Team New Zealand will have to do it alone before they defend the America's Cup against the Prada Cup winners in March.
However the Kiwis will take comfort in the knowledge they have the fastest boat while Barker and Spithill showed they will be competitive after sharing honours in their World Series clashes.
As a multiple Olympic champion, the brilliant Ainslie will be disappointed with the problems associated with his boat.
With Sunday's Christmas Race abandoned because of light winds, it won't surprise if more abandoned days are called when the real racing gets underway.
Meanwhile spare a thought for brilliant Pakistani batsman Mohammad Hafeez who was left stranded on an unbeaten 99 when the Black Caps won Sunday's second T20 cricket match by a resounding nine wickets but with only four balls to spare.
However it was a massive improvement on the Pakistani batsman's Eden Park duck on a day his team-mates contributed a mere 64 runs before their innings closed at 163/6.
The Black Caps destroyer was Tim Southee (4/21) who replicated Jacob Duffy's performance at Eden Park when Duffy made his sensational debut.
Surprisingly Duffy wasn't given a second chance with the return of test stars Southee and Trent Boult who, along with captain Kane Williamson, was rested from the first.
The new dad skipper celebrated his return with 57 not out in an unbeaten 139 run partnership with an impressive Tim Seifert (84 not out).
Thankfully New Zealand fans were more understanding of Williamson's absence than many Indians who blame Virat Kohli's wife for his returning to India for the birth of their first child with three remaining test matches to play against Australia.
It didn't help that the Baggy Caps rolled India for a humiliating first test second innings 36 when nobody reached double figures.
Ivan Agnew is an award-winning sports writer