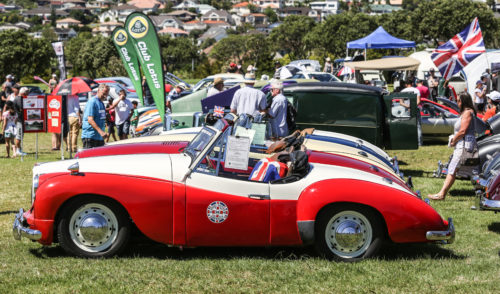 More than 10,000 people are estimated to have visited the Brit & Euro Classic Car Show on Sunday.
Chairman of the Brit & Euro Classic Car Show Committee, Rev Dr Richard Waugh, said
registrations were 25 per cent up on record 2018 numbers.
"Our estimate is that numbers of public were also up 25 per cent. The estimate of 10,000+ public is probably conservative as car drivers and some passengers means there are about 1600 people on site before one member of the public arrived."
There was a record number of registered classic cars and motorcycles – 1077.
"We also had a classic car public parking area for the first time and had many more interesting cars parked there too," Rev Waugh said.
"We had about 130 volunteers involved including from East FM, local scouts, Howick MenzShed, Rotary Clubs, Howick Historical Village and LifeGrowth Community Trust."
More than 600 people attended the live day at the Howick Historical Village
"The sponsorship support from the Howick Local Board  to cover infrastructure costs is so important to the event and so appreciated by our community. Likewise, sponsorship from Times Newspapers, Protecta Insurance and NZ Classic Driver.
"The weather was perfect and the Lloyd Elsmore Park site very suitable with its many entrances and ample parking for such a large free community event.
"A number of people suggested to me that with our British and European theme – so applicable to Howick and its heritage – the event is fast becoming not only a regional Auckland event but a New Zealand-focused event with more and more people coming from outside Auckland.
"We had cars from the Bay of Plenty, Waikato and even one car from Feilding and one car from Timaru!"
Pakuranga MP Simeon Brown said: "I am incredibly proud that Pakuranga can host the Brit & Euro Classic Car Show. With over 1070 vehicles on display, this year was the biggest yet and I want to congratulate Rev Richard Waugh and all the organisers and sponsors of this event for all their hard work in making it happen.
"It was great to see so many people at Lloyd Elsmore Park enjoying the show and I look forward to continuing to support this event into the future. East Aucklanders certainly love their cars!"