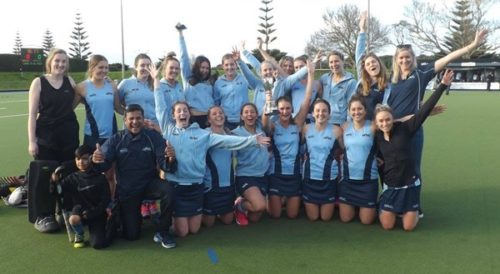 Howick Pakuranga Hockey Club has wrapped up a strong season with both the Premier Women and Premier Men teams making it into their respective finals.
Premier Women finished their season on a high with a fantastic 2-1 victory over arch rivals Somerville.
The finals, played in front of a full house, with plenty of support for both teams, was an exciting fast paced encounter, with both teams having their fair share of the exchanges.
Both teams had their Black sticks playing so the crowd was entertained to a very high caliber game of hockey.
Howick shot into the lead early in the 1st half through a fine field goal from Black Stick striker Deanna Ritchie. The second goal was scored by midfielder Lydia Velzian, of a brilliant counter attack initiated by Anita McLaren, who was outstanding.
Somerville fought hard in the second half and pulled a goal back off a penalty conversion by Phoebe Steele. Somerville launched an all out attack in the last 5 minutes replacing their goal keeper with an extra field player, but Howick's goal keeper made some brilliant saves to ensure the win for Howick Pakuranga.
Charlotte Edwards who represented Howick Pakuranga for 14 years with pride and distinction, announced her retirement after the final.
HPHC Premier Men Roskill Eden in the men's final. It was a hard fought battle that went down to the last seconds with Roskill eventually winning 4 — 3. The men were gutted but really proud of their season. HPHC won the trophy for top men's club in the Auckland competition.
The premier reserve men played in their final on Sunday vs Roskill Eden and were able winners beating Roskill 4 — 1 to take the title. HPHC also placed first in the premier youth boys and premier youth girl competitions.
Head coach Clive Daniels said he was "very proud" of what the club has achieved across so many grades.