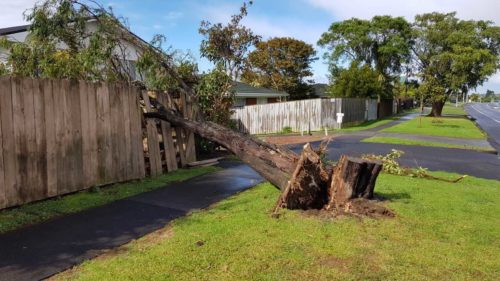 UPDATED 12:05PM A Shelly Park family is counting its lucky stars after a massive tree partially destroyed the family home in last night's storm.
An enormous poplar tree succumbed to the ferocious winds which battered Auckland overnight and crashed down on a home in Aries Place demolishing the living room and injuring a woman.
Homeowners Rob and wife Lorna (surnames withheld) were at home when the giant tree snapped and fell onto the house some time around 9pm-9.30pm.
A neighbour, who had assisted the couple, said she was very lucky as she'd fallen between two couches which arrested the tree's fall.
Rob told the Times his wife, who is expected to be released from Middlemore today, received lacerations and bruising. She underwent x-rays and a CT scan to check for a skull fracture too.
Numerous other trees came down around the area and power outages were widespread.
An estimated 120,000 Auckland homes were left without power after the region was ravaged by last night's storm.
The storm left a string of debris in its wake including surface flooding, downed power lines and trees.
Winds of more than 120km/h pummelled the city
overnight – the highest gust was recorded at Manukau Heads at 213km/h.
Trees were brought down across east Auckland, including a large tree blocking Aviemore Dr in Highland Park.
Flights to Auckland Airport were either forced to divert or return to their destination as the gales made landing impossible.
Traffic lights, motorway signage and traffic cameras were all affected by the storm and motorists were urged to delay non-urgent travel.
Fire and Emergency reported a total of 1611 calls between 6pm Tuesday and 9am Wednesday morning – 1257 of those were from Auckland.
Most of the calls were due to the strong winds hitting the region, toppling trees, power lines and ripping roofs from houses.
Fire and Emergency's national manager for communication centres, Gavin Travers, said the sheer volume of calls coming through the centre was startling.
Its Northern Communication Centre received the most calls between 9pm and 10pm, with more than 560 calls reported in that time.
The 111 line spiked again between 7am and 8am Wednesday morning, as people woke up to report more damage.
Auckland Emergency Management Director John Dragicevich says contractors are working frantically to remove trees that are impeding power restoration work.
"We are working quickly to determine the full extent of the damage from last night's storm," he says.
"We will be prioritising cleaning up trees that have damaged power lines and clearing the roads from any storm debris that will impede traffic flow."
Residents should call 09 301 0101 to report trees down on public land and around the roading network. Care must be taken around downed power lines.