More local artists than ever are exhibiting their Easter Art at the 2019 Word on the Street exhibition.
Creative people from around the Howick and greater Auckland area are showcasing their talents as part of an Easter Art exhibition over the Easter weekend. Over a third of the artists in 2019 are newcomers to the Easter exhibition which is in its 13th year.
One of the newcomers in 2019 is inspiring Auckland artist Anita Mary, fresh from her  Overcome exhibition at the Papakura Art Centre in December 2018 (www.anitamary.com).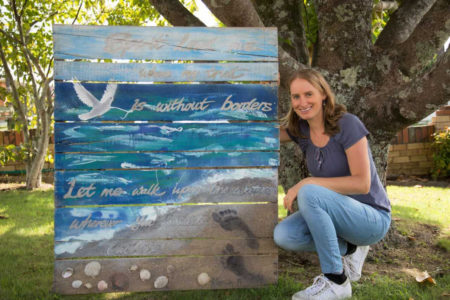 Anita Mary has been painting full-time since 2012. Struggling with chronic pain and mental health challenges, she has discovered that art is not only therapeutic but is also a tangible medium through which to share the possibility of hope.
Since 2012 she has been involved in many exhibitions alongside her own solo exhibitions, Metamorphosis, Matters Of  The Heart, Awoken and most recently, Overcome.
Anita Mary will be exhibiting her work at the exhibition and sharing some of her journey through art at The Artists Speak event on Saturday April 20, 7pm.
Artists will share about their art within the exhibition gallery as part of an evening of art, music, canapes and light refreshments.
Howick artist, photographer and art tutor Keryn Bloxham is returning to the exhibition in 2019 (www.kerynbloxham.com). Keryn is well-known for her work painting landscapes and animals. Much of her work evokes a distinctly spiritual point of view. This year's piece combines these elements in a uniquely New Zealand seascape using found items as she takes her palette to a wooden pallet!
"The prevailing remark I hear from people who have bought my art or photography is that when they look at them, they feel peace," says Mrs Bloxham.
Preparations have been underway for the past nine months as artists have worked together on developing the theme for the exhibition and the gallery design. The Exhibition is displayed within a thematically-driven "theatrical" style set designed by the Stations project team and intended to add colour and ambience to attendees' journey through the Easter art.
"This year's exhibition Word in the Street will offer a range of artistic pieces from the more traditional art forms to the off-the-wall and creative.
"We're expecting painters, sculptors, photographers, mixed media artists and poets – all reflecting on the universal themes of the Easter story – betrayal, shame, guilt, injustice and perhaps most importantly, hope. Our unique gallery design this year will invite people into a gritty urban environment that reveals Jesus' journey to the Cross at a street level," explains exhibition curator Brett Jones.
Further information, exhibition curator Brett Jones 027 284 2893 or bj@cession.org.nz. Entry by gold coin donation, The Depot, Sir Lloyd Drive, Lloyd Elsmore Park. www.cession.org.nz
Stations of the Cross "Word on the Street"
Friday April 19, 6pm-9pm
Saturday April 20, 10am – 5pm
Sunday April 21, 9am – 2pm
Saturday April 20 – The Artists Speak: Stories Behind the Art from 7pm