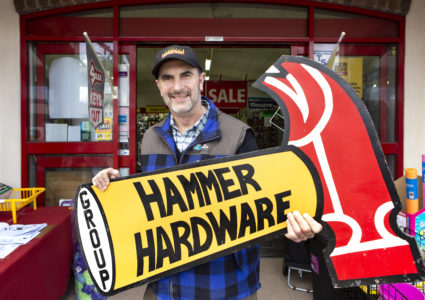 "No one will regret the time dedicated to chess, as it will help in any profession."
It seems the most fitting of quotes – from former World Chess Champion Tigran Petrosyan – to mark the end game of long-time Howick retailer Paul Spiller.
Spiller, president of the Oceania Chess Federation, will lock the doors to Spillers Hammer Hardware on Howick's main street for the last time at the end of the month.
It will close a chapter on three generations of entrepreneurship which began in 1952 when Paul's grandfather Ossie Spiller moved into the Picton Street premises and opened a hardware store with his son Ross (Paul's dad) there to help.
Ossie, from Cornwall in England, came to New Zealand in 1912 seeking a better life. He and his wife Gladys spent many years in the grocery business with his brother-in-law in the King Country before moving to Howick and buying a general store in 1942 (now PaperPlus).
Paul has been at the helm for 41 years although he did work with Dad for about 20 of those before Ross retired.
"I've been full-time there since I came back from overseas in 1979," Spiller says.
He also served for 20 years on the Hammer Hardware board of directors from 1999 to 2019 and was also the Howick Village Association chair for six years.
"Obviously it's quite an emotional thing to deal with especially after 68 years and it's been the hardest thing for me. I've had such a strong link to the shop so to close it up is an emotional thing you go through.
"But now I've got my head around it. Really it took quite a while and that's why initially I wasn't ready for it but I am now, I know it's time.
"Certainly, the tie is very strong for me there. We know so many people. I was just talking to some customers (this month) who have been in Howick since 1958 and they've been dealing with the store 60 years. It's hard for those people too."
Retail can be a tough game (Covid-19 and lockdowns have made it almost impossible). Spiller reckons their offering was unique and something which endeared them to the community.
"We've managed …by just offering something different, a personal touch and being convenient and having a big range of products that people wanted," he says.
"But having said that, it has been getting progressively difficult over the last four or five years especially since Bunnings have really upped their marketing and also Mitre10 Mega."
The other factor – the elephant in the room – is online shopping.
The thing with the Hammer Group franchise – it is part of the Mitre 10 group – is the stores haven't had an online presence.
"I think that has actually hurt us whereas all the big guys do have a very big, very strong online presence. You can order stuff by clicking a button. You can't do that with Hammer. That's the realisation now – you have to have a very strong presence."
The parent group has been made aware of it. "It became brutally obvious during lockdown that the Hammer brand didn't have that presence and it actually prompted one or two individuals to go out there and do their own thing which, really, they're not supposed to," says Spiller.
"I think there's a lot more awareness for the need for that now and I think Covid has really changed the way that people do shop. People are shopping from home a lot more, they're probably more reluctant to go out or they weren't able to go out. It changed shopping dramatically."
Spiller says there are a number of reasons around deciding to close the business. He made the decision some two years ago.
"It's been a process. I'm turning 63 next month. I'm not retiring exactly. I'm just looking for other business opportunities and to put my energies into some of my other passions in life," he says.
"Chess is one of them. I'm looking at the possibility of a chess-related business. I've had a strong affiliation with chess for a long, long time so now my plan is to focus a bit more on that and maybe start a coaching kind of business – a chess academy out of Howick.
"There's a real demand for coaching for young people. There's more demand than we can provide for."
He still chips away behind the scenes as president of the Oceania region. Closing the store down will open more horizons and give him time to explore.  "I intend on doing a lot more travelling and play in a lot more events – get a bit more active again – spend a bit more time with family," Spiller says.
Also at the store is his wife Joanne. His brother John (a Howick Local Board member) retired from the business in January.
"Joanne has been an amazing help during Covid. We couldn't have done it otherwise. Both of us were working as a team. We were absolutely exhausted by the end of it but it was the only way it was going to work during that lockdown situation," he says.
"For us, business was incredibly good because people couldn't go to the big box stores so they came back to us because it was convenient to come  to the front of our store and ask for what they wanted. Dealing with the big boxes, they had to go online and then do a pick-up in maybe a day or two.
"The lockdowns also demonstrated to me that business actually lost to the big box stores. As soon as we went to level 2, the business dropped again. Before that we got these big spikes happening as people found it more convenient to come to us. Quite amazing."
He will come to cope with this big change, as will the store's many loyal customers.
"We're the longest-established business – especially as a family business – in the whole of Howick and Pakuranga without a doubt because when this business started, there was no Pakuranga really. I think Readaway Books which recently changed to Poppies started in 1957," says Spiller.
"I think people have already been traumatised by Covid and they've been traumatised by the way banks have been treating people (through) closing, especially older people. They're finding it very difficult to deal with the changes. The post office has closed and also a lot of the older-established businesses in Howick have gone. People are dealing with a lot of change at the moment. That's always hard."