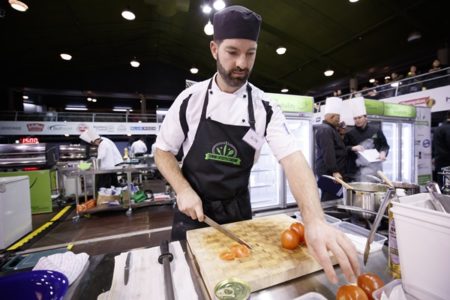 It may get hot in the kitchen but it was just another day at the bench for a local chef who recently achieved success at national culinary awards.
Michael Jones, head chef at Ambridge Rose Manor, earned a bronze medal in the senior lifestyle category at the recent NZ Hospitality Championships 2017.
"I was very proud of achieving the bronze medal in the senior lifestyle category and now I am keen to enter more competitions," says Jones.
Although it was his first competition as a professional chef, Michael found it smooth sailing and any pre-competition nerves disappeared once he was at his cooking bench.
The competitors had 75 minutes to turn ingredients including hoki loin, mashed potato and New Zealand grown vegetables, into their own special gastronomic delight.
Michael decided to combine two classic dishes, fish pie and fish and chips.
In preparation for the competition, Michael carried out taste tests at Ambridge Rose Manor and served his dish to the Pakuranga residents for their feedback.
On competition day, four plates had to be created including two plates of food in soft or minced form that would be suitable for a person with difficulties swallowing or chewing food.
Two plates were then delivered to the panel of representatives from the hospitality industry for private judging.
The annual competition, at the ASB Showgrounds is open to all qualified chefs and Michael was encouraged to enter the senior lifestyle category by Ambridge Rose Healthcare co-owner, Allan Sargeant.
"I always want my staff to strive to be the best they can be," says Sargeant.
"Michael came to Ambridge Rose Manor from a successful local restaurant and it was amazing to see him doing so well in a specialist competition environment.
"He really stepped up to the challenge."
Michael runs the kitchen for Ambridge Rose Healthcare's two aged-care homes and he consults with a nutritionist to create menus to meet the residents' special requirements and the food needs to taste great.