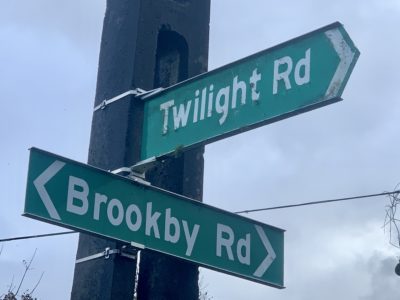 It doesn't look much but its cutting edge technology and it's helping a tiny rural community combat a modern menace.
Energy company Vector has installed one of the country's first "smart poles" on the corner of Brookby and Twilight roads in Brookby, a favourite haunt of boy racers.
As well as carrying power lines, the smart pole can be used for other functions such as LED street lighting, CCTV, EV (electric vehicle) charging, wi-fi and weather monitoring.
It is now waiting for the CCTV cameras the community hopes will put a stop to the boy racers.
Spearheading the move is resident Jenny Edmunds who back in May got fed up with having her nights ruined by the sound of cars doing burnouts at the intersection.
She contacted Hunua MP Andrew Bayly for help and he suggested holding a public meeting with residents, police and Franklin Local Board representatives.
The meeting decided the answer was CCTV cameras with plate recognition technology.
But where to put them? Mr Bayly set up a meeting between Ms Edmunds, supporters Selwyn Pellett and Alistair Grant and Vector which came to the party with the smart pole.
It was installed last weekend.