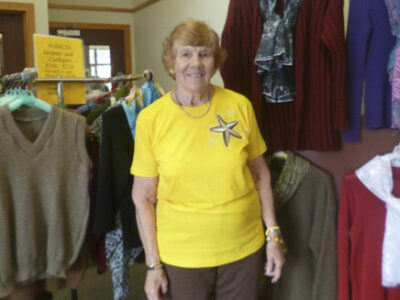 When entering the warm, friendly environment of Classy Crafts in the Picton Centre, Howick, the talent and skills of the crafters therein are immediately apparent.
Many years of training, practice and handcrafted work are behind every item on each stall, along with the passion for creating something useful and of high quality.
When Diane Shortland was 13-years-old, she was encouraged by her aunt to make finger puppets and cushions.
As Diane's skills improved, so did the range of items she produced. Now Diane sews and knits garments for premature babies through to five-year-olds.
A centre administration manager at the National Library, Diane says, "I have been coming to Classy Crafts for many years. This is my happy place where I enjoy interacting with people and soaking up the vibe.
"There is a lot of laughter and friendship here. My favourite time is pre-Christmas because I can let my imagination go wild and create all sorts of fabulous Christmassy things like angels, dress-ups and decorative boots."
With the winter chills really biting, shoppers are making a beeline to another crafter, June Polkington, who has a great reputation for making warm knitwear from possum fur and mohair, for men and women.
"I enjoy coming to Classy Crafts and seeing regular clients come in the door," says June, with a smile. "Sadly because of arthritis in my hands I am looking to retire soon. The stock I have will go quickly, so don't delay."
Shop local. Buy Local.
What: Classy Crafts Indoor Market
Where: Picton Centre, Picton Street, Howick behind Bayleys Real Estate
When: 2nd and 4th Saturday 9am – 12.30pm
Enquiries: Robyn Brown, 537 9240